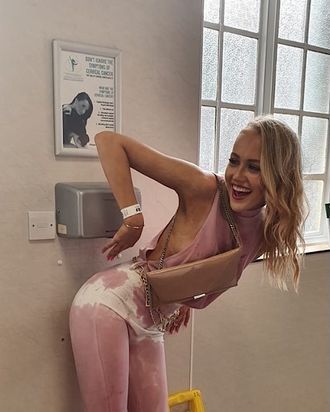 Photo: Courtesy of Eleanor Walton
A woman in Leeds, England, was attending the Ripon races when someone had spilled red wine on her crisp white jumpsuit. Instead of stressing over the stains, Eleanor Walton alerted her friend Mia Williamson and their other co-workers of the mishap and the group went to work, soaking Walton's PrettyLittleThing jumpsuit in even more wine.
The result was a burgundy-colored, tie-dye outfit that looked straight out of someone's Coachella Instagram feed. They did a pretty good job!
Walton says she was "quite drunk" when the spill occurred and found the whole situation pretty funny. "Part of me wanted to go home and change, but I was having too much fun and didn't want to let a spill ruin my day," Walton tells the Cut. She said it took them about a half an hour to dye the entire outfit.
On Twitter, Williamson pointed out the jumpsuit's new boho vibe, joking that it was a new product in PLT's new festival line. The fashion retailer responded in a very Carrie Bradshaw-like manner, saying that the new look "wasn't a 'pour' decision."
Twitter users were both impressed and disgusted by the spontaneous redesign, with the latter group pointing out that Walton was probably walking around in damp clothes and smelled like alcohol. However, Walton says they dried it off underneath a hand dryer so it wasn't too sticky. "I got used to how it felt quite quickly. I wasn't really thinking about it 'cause I was having a good time," she says. They also weren't too concerned with wasting booze — Williamson tweeted that it took about four glasses of wine to create.
You've got to hand it to these women. First of all, props to Walton for being brave enough to wear an all-white jumpsuit at a crowded public event. That takes true fashion courage. And for Walton's co-workers to have the smarts to be able to hilariously improvise this tragedy! Walton also said she is keeping the jumpsuit "for memories."
Now … I smell a Project Runway challenge waiting to happen.