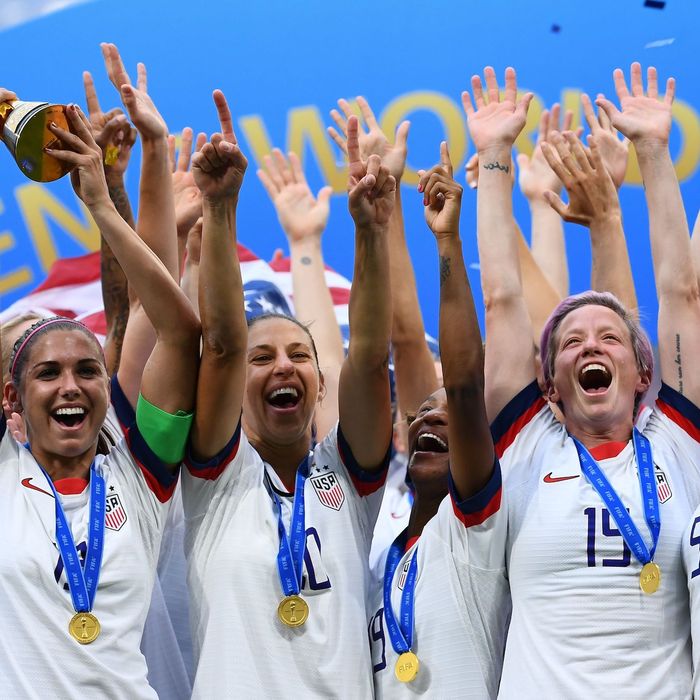 Photo: FRANCK FIFE/AFP/Getty Images
After the U.S. women's national soccer team took home the World Cup championship in a 2-0 victory against the Netherlands, fans began showing their support in a different way, by calling for "equal pay" from the stands. The crowd began chanting as Gianni Infantino, the president of FIFA, took the stage. Today's win marks the fourth title for the U.S. women's team while the men's team has absolutely zero. And yet, the women earn significantly less than their male counterparts.
According to CNN, the total prize money for the 2018 men's World Cup was $400 million, while this year, the women will receive $30 million, which was doubled from last year. Infantino said they would again double the women's total prize money to $60 million in 2023, but midfielder Megan Rapinoe was not satisfied with the answer. "It certainly is not fair," Rapinoe said during a press conference prior to the final. "We should double it now and then use that number to double it or quadruple it for the next time."
Rapinoe, who scored one of the winning goals at the final, also spoke out about the decision to schedule the women's World Cup final on the same day as two men's international finals, the Copa America final and the Gold Cup. "That's a terrible idea to put everything on the same day, in every way," Rapinoe said. "I don't think that we feel the same level of respect certainly that FIFA has for the men and just in general," adding, "If you really care, are you letting the gap grow, are you scheduling three finals on the same day? No, you're not."
In March, 28 members of the USWNT filed a lawsuit against the US Soccer Federation for gender discrimination, citing, "Despite the fact that these female and male players are called upon to perform the same job responsibilities on their teams and participate in international competitions for their single common employer, the USSF, the female players have been consistently paid less money than their male counterparts. This is true even though their performance has been superior to that of the male players — with the female players, in contrast to male players, becoming world champions."
Get them paid!