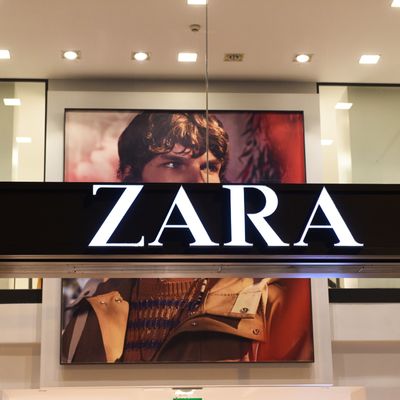 Photo: SOPA Images/LightRocket via Getty Images
As a brand that churns out 500 new designs each week on average and has over 3,000 stores across the world, Zara is associated with clothes that are here for a good time, not a long time. But Inditex, Zara's owner, is trying to shift that perspective. Yesterday the brand released its first major sustainability goals, which are ambitious and will take place over the next six years.
By next year 2020, Zara aims to eliminate hazardous chemicals from its supply chain, set up donation boxes in all stores, train employees in circularity, and cut out fibers that come from endangered or ancient forests (so, viscose made from wood pulp). By 2023, no single-use plastic will be used in packaging, and before 2025, no waste will be sent to landfills from Zara facilities. When the goals were announced, Marta Ortega, the daughter of Inditex founder Amancio Ortega, said, "It's the right thing to do, both morally and commercially, and it's an approach that we're absolutely committed to."
Naturally, this has been met with some skepticism. The fact that Zara is publicly discussing sustainability signals a shift in how popular — and profitable — businesses think eco-friendly fashion is. But it's hard to imagine a brand that epitomizes the problem becoming the solution without fundamentally changing its business model. A top made of recycled polyester that's worn three times then thrown away is still a polyester top in a landfill.
And there's another gaping hole in the sustainability goals: Where are the considerations for the people who make clothes? At least H&M, the other giant fast-fashion brand that has had sustainability goals for years, says that the goal is to pay all factory workers a fair and living wage, even if the workers aren't actually being paid that much yet.
That being said, if Zara can rid its supply chain of viscose made from ancient forests and single-use plastic packaging, it would be an undeniable win for the planet. But the brand is hardly taking a holistic approach to sustainability. If it's sending out 500 new designs each week, a fair amount of clothing will end up in landfills. And it's worth noting that the same week Zara made headlines for its sustainability goals, it was also covered in the New York Times for making a $50 viscose dress that proliferated so quickly it warranted its own Instagram account.