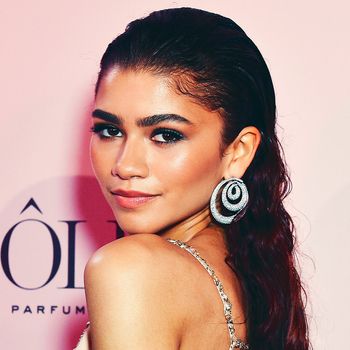 Zendaya.
Photo: Kristy Sparow/Getty Images for Lancome
Lancôme's youngest ambassadress is being put to work. Yesterday, the brand announced that Zendaya, who joined the team back in February, will be the new face of Idôle, the brand's new feminine fragrance for a new generation of women.
According to Françoise Lehmann, Lancôme global brand president, this new generation is "questioning the status quo, breaking free from tradition and re-defining the meaning of success," and multi-hyphenate Zendaya Coleman embodies all of that in human form. The millennial pink gown she wears in the new promos perfectly matches the slim, 15mm-thick pink bottle (designed by architect and industrial designer Chafik Gasmi).
The new fragrance is described as "a musky chypre floral fragrance," and it was created by three female perfumers, Shyamala Maisondieu, Adriana Medina, and Nadège Le Garlantezec, who selected sustainably sourced Isparta Rose petal essence from Turkey, Centifolia rose, bergamot, accords of pear, and India jasmine grandiflorum for the blend.
The fragrance also features a new "clean and glow" accord that is "set to re-write the white page on which every woman starts her story" (a statement which gives one the sudden urge to start blasting "Unwritten.") Today is where your book begins. And by "today," I mean August 22, which is when Idôle officially launches worldwide at Lancôme and select retailers.