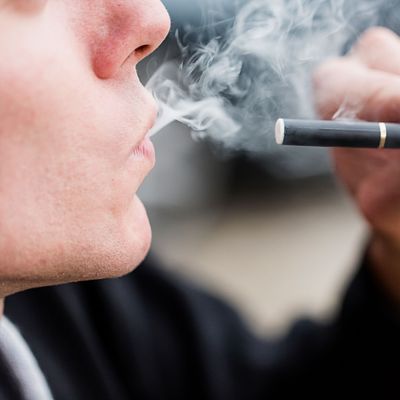 Photo: Mauro Grigollo/Getty Images/iStockphoto
A 20-year-old man is one of five patients recently treated at just one hospital in Utah for severe lung issues related to vaping, per a terrifying report in the Washington Post. Alexander Mitchell was a healthy hiking enthusiast who thought he had a case of summer flu; within days of feeling ill, he was being kept alive by a machine in the hospital after both of his lungs had failed. Now his lung capacity has diminished by 25 percent. It all happened after Mitchell used a new brand of vape juice he had bought for his e-cigarette device.
E-cigarettes were initially marketed to users who wanted to quit traditional cigarettes; Mitchell told the Post that he had picked up vaping for that reason. But now e-cigarettes have near epidemic levels of use by young people, who've been targeted by advertising from companies like Juul, and Mitchell is one of at least 193 cases of vaping-related illnesses in 22 states being investigated by the federal government. As reported by the Post, Illinois health officials last week announced the first known death from a vaping-related lung illness in an adult.
Doctors were initially confused when they couldn't diagnose Mitchell with more common ailments like bacterial pneumonia. But then an exam picked up "evidence of abnormal immune cells in his lungs … generally associated with a rare, potentially deadly pneumonia seen in older people who accidentally inhale droplets from oil-based laxatives like mineral oil." One physician had heard of other patients in Utah who had similar complications after vaping, and Mitchell was airlifted to another hospital when they realized the severity of his illness.
The "cluster" of cases in Utah is alarmingly similar to another group of teens hospitalized recently in Wisconsin for "vaping-related illnesses." Doctors aren't sure exactly whether something about the e-cigarettes themselves or the other components used in vaping are to blame, but they believe that certain types of vape juice, the liquid added to e-cigarettes, could be the problem. In Utah, they found the same abnormal cells in four of the five patients there who had severe lung damage after vaping, and many of them had vaped for years with no complications. One doctor said that the surge in cases could be "the result of something recently added to the oils 'to dilute or add to them.'"
Mitchell bought a new peach-menthol-flavored vape juice in mid-June, which he used before falling ill, but is not yet releasing the brand name until the FDA has investigated it. He told the Post that the box was new, and the bottle had a seal. He said he felt sick the next day. With vaping a nascent phenomenon, the dangers are still unknown, but cases like Mitchell's are scary to say the least. "To see patients this sick, this is extremely alarming," one doctor said.