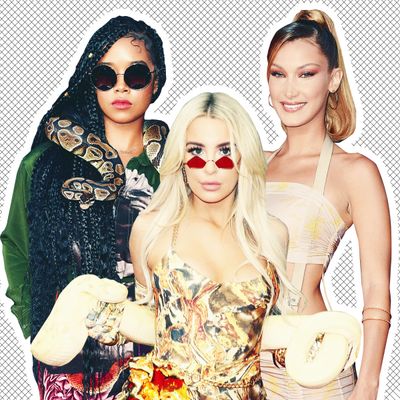 Ever since the MTV Video Music Awards made its debut 25 years ago, there have been countless moments that, for better or worse, remain etched in our memories. There was that Britney Spears and Madonna kiss that absolutely shook the nation. Diana Ross giving Lil' Kim's boob a little high five. Lady Gaga's meat gown. And, of course, the Kanye West "I'mma let you finish" moment with Taylor Swift. All of those made sense. It's the MTV Video Music Awards: It's meant to shock me, shock me, shock me, with its deviant behavior.
While there were also some incredible moments at this year's VMAs — namely Missy Elliott's long-overdue Video Vanguard honors, Normani's mind-blowing performance, and the giant inflatable booty on Lizzo's stage — there were also a few things that made absolutely no sense. Some of which, sadly, will likely be etched in my brain alongside the others.
The host
First of all, this year's host, comedian Sebastian Maniscalco, was an interesting choice. And when I say interesting, I mean bad. No offense to Maniscalco, who opened the show with a bizarre rant about snowflakes and "safe spaces," but he just wasn't right for the MTV audience. Cardi B, my favorite character actor, would have been fun … just sayin'.
Snakes as an accessory
For some unknown reason, snakes were on trend at this year's awards ceremony. YouTuber Tana Mongeau tried channeling Britney Spears circa 2001 VMAs, but she couldn't quite make it work. However, she gets mild props for bringing along a real serpent. Singer H.E.R. also accessorized with a snake, but it was faux. The presence of these two slithery reptiles has me wondering if there was any meaning behind them (if this were a couple of years ago, we could point to Taylor Swift) or just an attempt at edgy red-carpet style. Most likely the latter.
The Sopranos
The Sopranos are getting a prequel and the awards took place in New Jersey, so I guess it kind of makes sense that they'd be there (?), but it was still weird to see Meadow Soprano on an MTV awards stage in 2019.
Bella Hadid's suspenders
I have some questions regarding those TRX straps on Bella Hadid's outfit.
The low-ass mic
The microphone for the presenters was set strangely low. It was extremely noticeable when French Montana and Alison Brie were onstage, as Montana kept having to crouch down to speak. To be fair, he is a tall tree at six-foot-three, but you'd think MTV would set it up somewhere in the middle, or at least have two mics.
John Travolta's presence
I'm still wondering what HE was doing there.