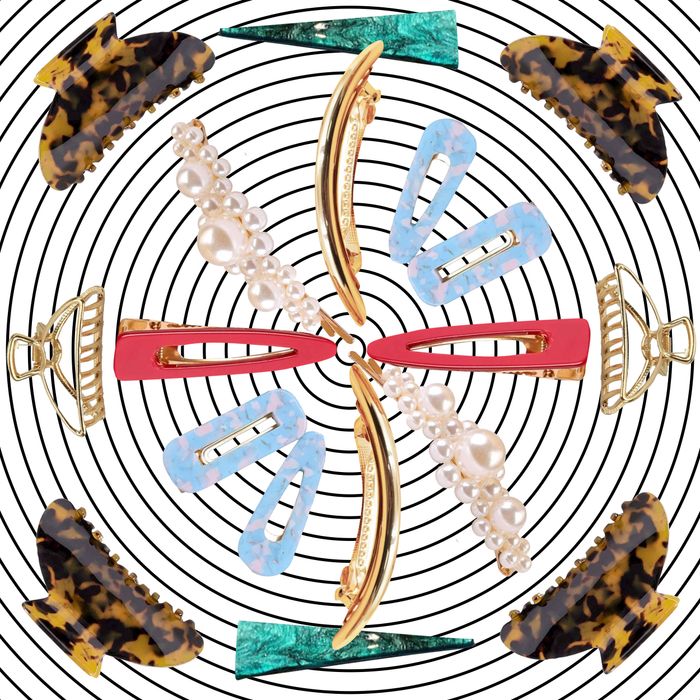 Photo: Courtesy of the Retailers
Prime Suspects: We found the most fun fashion on Amazon.
In the past year, barrettes and other formerly reviled hair accouterments have become stars in street style and on the runway. And thanks to Glossier, the cousin of the barrette, the claw clip, is making a comeback. It's an easy way to get your hair out of your face while making a fashion statement. Some barrettes cost hundreds of dollars, but if you're like most people, you probably don't want to make that big of a commitment. Enter, Amazon. Barrettes or hair clips are the perfect thing to throw in your cart when you're stocking up on towels, detergent, and some weird beauty contraption. See 23 of our favorites below.
The Artsy Clip
They're minimal, functional, but still cute.
If You Buy in Bulk
If you want all the Instagram-ready candy colors, look no further. You can easily find a $40 version, but here, you get ten for $10.
The Fancy (Looking) Claw Clip
This opalescent clip almost looks like it could be a vintage find.
If You Can't Decide
A variety pack of statement-making barrettes — you get pearls, gold, and colorful acrylics.
If You Know What You Like
You're probably either a pearl person or you're not. If you are, you'll need a variety pack of barrettes to choose from.
The Jade-Like Ones
We love the natural look of these bright green barrettes.
For the Colorful Sophisticate
A rectangle barrette is a bit more refined than the playful triangle shape.
The Statement Claw Clip
In general, claw clips aren't quite as eye-catching as barrettes — unless you add pearls and make them gold.
If You're Feeling Preppy
It doesn't get more East Coast prep than a tortoiseshell hair accessory — and that's not a bad thing!
For the Beach Babe
Wear them now to the beach, or wear them in February as a reminder of warmer times.
If You Just Like Color
These have a sweet, school-picture-day vibe, but the jade, mustard, and lilac hues make them a bit more elevated.
For the Extrovert
If You'd Rather Have Lots of Tiny Pearls
Instead of a few larger ones, like on the claw clip above.
If You're Not Afraid of Neon
If You Want Something Simple
This elegant circle doesn't draw attention to itself like, say, neon barrettes.
The Subtle Barrette
A pearly white barrette is different enough to be noticed, but classic as well.
The Sculptural Option
It gives off seashell vibes, without being too obvious.
The Classic
If you're looking for barrettes to actually keep your hair out of your face, these are for you. The chic factor is just a happy by-product.
The Boho Barrette
A barrette for the free-spirited among us exists!
The Dainty Ones
Simple barrettes that aren't just a gold bar.
For Long-Haired People
If you have a lot of hair to hold back, a dainty little thing probably won't do the trick. These have a bit more heft to them.
If you buy something through our links, New York may earn an affiliate commission.