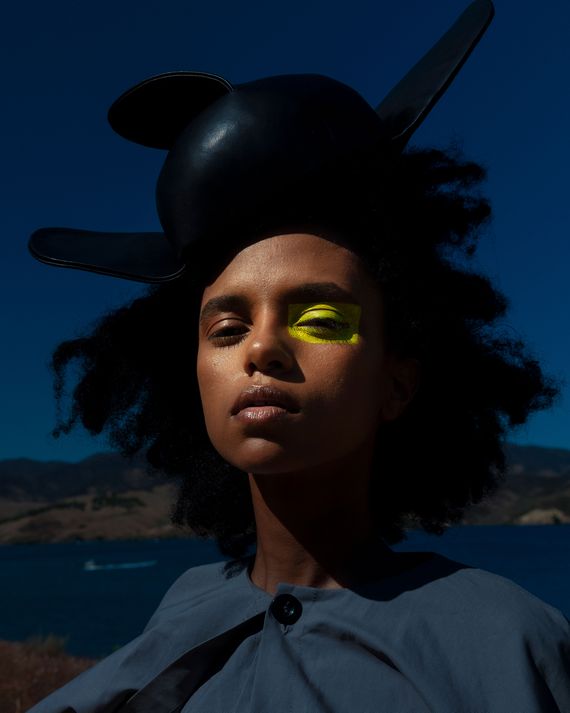 JW ANDERSON
jacket, at jwanderson.com;
LOEWE
hat, at loewe.com.
Photo: Djeneba Aduayom
For the Cut's fall fashion issue, photographer Djeneba Aduayom superimposed some of the season's most theatrical shapes against the natural drama of a lake in California.
"Nature is the master," Aduayom said. "Humans can replicate shapes and colors, but really Mother Nature is the one who creates all these things. I wanted to incorporate some elemental colors, like red, yellow, and blue, and I also wanted to have some elements of nature, like the sun, the water, the wind, and the earth."
Aduayom's shoot is a continuation of her last collection of images for the Cut, which like this one is informed by her background in dance.
Explains Rebecca Ramsey, the Cut's fashion director, "We wanted to create powerful shapes with garments and to showcase a beautiful location that highlights the natural landscape of California." This meant selecting some architectural looks, like Balenciaga's red oversize wool coat (Ramsey's favorite look of the season), Marc Jacobs's chartreuse gown, and a sleek catsuit by Collina Strada.
Aduayom said she could have never conceptualized the shoot without her friend and collaborator, the designer Sohani Holland, who she says "was able to interpret my desire to keep things simple yet sophisticated, and provide a mix of materials so that we could make magic in the moment." Holland even propped up the backdrops in some of the photos below, holding them against the wind with her body. Talk about a supportive friend.