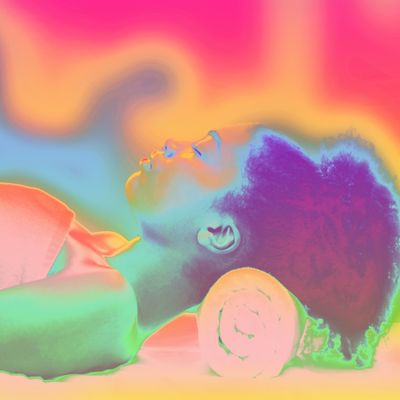 Photo-Illustration: by Stevie Remsberg; Photos: Getty
SoJo Spa Club is a 140,000-square foot Korean spa playground spread over four floors in Edgewater, New Jersey. It has eight saunas, pools that bubble like LaCroix, a sexy waterfall, volcanic sand in which to get buried, nap rooms, bulgogi rice bowls, and intense scrub treatments that leave you buttery and renewed. People make pilgrimages to bathe in these carbon-rich waters. At SoJo, you will hear every language, see every type of body, and bump into every variety of Jersey boyfriend in the book. It's ridiculously fun.
If SoJo is the Disney World of spas, then I am your Tinker Bell. Or the White Rabbit. Or the Magic Carpet — whichever character doesn't die in the end. Open your pores, and let me guide you through this well-mopped paradise, including the highlights on every floor.
The Details
How to get there: You can drive. Or if you're coming from Manhattan, there's a free shuttle van from Midtown usually every hour in both directions. However, weekends are wild and the shuttle can fill up by Tuesday — book ahead! There's also a ferry between Edgewater and Midtown West that would require hopping on a quick bus, or walking 17 minutes.
The cost: $60 on a weekday, $80 on the weekend. However, I'd argue you shouldn't go without having a scrub for $115 plus tip, and you're probably going to smash on $20–30 worth of food and drink since outside food isn't allowed. Approximate total spend: $250. Hey, still cheaper than Broadway tickets and dinner, and you can stay ALL DAY LONG.
What to bring: ID. Sunscreen. Swimsuit (or you can opt for a SoJo-provided cotton spa-outfit; thong bottoms and other "overly exposing swimwear" are forbidden, as is sportswear.) A book. A change of clothes. Preferred toiletries, although they also have soaps in the shower stalls in the locker rooms, plus hair dryers. A deep moisturizer! Most important: An empty water bottle, airport-style. There are many water fountains, and you sweat so much you need to be chugging the stuff.
First Floor
You'll pay, go through security, and forfeit your shoes into a locker, where you'll get a wristband with a code on it. You'll use this to pay for food and spa treatments and to open another locker upstairs.
Floors 2–3
An utter mystery. Assume this is where thong-wearers are taken to atone.
Fourth Floor
The locker rooms: Pick up your robe and towel here. There are also showers and bathrooms where you can slip your bare toes into paper slippers in case you're afraid of pee splatter underfoot.
The scrubs: Within the locker rooms is an area called the "Bath Houses" which includes a few hot tubs, two cold tubs, a sauna, and a steam room. This is also where the body scrubs take place.
In Korean bath house (jimjilbang) culture, body scrubs are the closest a mammal can get to shedding her exoskeleton. And they're a group activity, like getting a mani-pedi with your mother-in-law, hence the semi-open area where they take place. I took my great aunt, who I overheard in the stall nearby exclaiming, "Yummy!"
Before your scrub, you blanch yourself in a hot tub for 30 minutes, then go back to a cubicle in the Bath House and get naked (you can keep your bathing suit bottom on if you're shy). I was scrubbed from between my toes to behind my ears and even my belly button (an INNIE!!) by a woman named Gina wearing hot pink slippers. It hurt when she scrubbed my elbows and knees; the rest felt wonderful. When Gina flipped me over, she pulled by bikini bottom into an atomic wedgie so she could scrub my butt cheeks. Then she lovingly pulled it back out. So maybe you should just go nude. But after the whole thing — scrub, rinse, oil massage, rinse, mask, shampoo, rinse — I was as soft as 1,000-thread count sheets. Honestly, it seems like sort of a missed investment if you don't have sex immediately after.
My scrub was the PREMIUM, which would have cost $150 if I was not getting a press comp like an asshole. When I go back, I'll go medium level and pay the $115 (I don't need the shampoo and cucumber mask you get in the Premium.)
The hydrotherapy pool: This is a big, L-shaped, covered pool with stalls along the side where people go to get pummeled by water jets from neck to calves. The temp of the water is ~85 degrees. There's a hot tub, and the raining mushroom thing — you know, that thing. Couples like to share the stalls and get pummeled by jets together, which … hot.
The hinoki bath: My favorite! It smells heavenly from white cedar, which gives off a lemony scent called "Hinoki Thiol." This should "tranquilize" your body and mind, per the plaque nearby. The pool is covered by a beautiful trellis with flowers and plants. The water is very warm, delicious. This is where I saw Chris Hayes look-alike wearing a dolphin-print bathing suit and made a face at him like, "Aren't you supposed to be on TV?" and ten seconds later, he left the pool.
The silk bath: I call this the cream soda bath. It's milky-looking and slightly fizzy. I sat and read about Jack Reacher beating up some guys for a bit in this one, hoping for the "state of the art Japanese white ionisation technology" to improve my skin elasticity and nourish the hell out of me.
The carbon-rich bath: This is the LaCroix tub. You sit on these big rocks and let the naturally occurring carbon dioxide (twice as much as seltzer water) increase your blood oxygen levels and improve your circulation. Whether or not you microdosed before coming to SoJo, you will feel high as fuck when you look at the baby hairs around your belly button as they wiggle and glow.
The cold waterfall, a.k.a. the Pic Zone: At the end of the rocky, torturous foot massage path is a dramatic sexy waterfall where people line up to take selfies behind the rushing water. Couples pose for wet prom pics. Security dudes in black polos and khakis watch, arms crossed and expressionless. They've seen all the moves.
The Ganbanyoku sauna: This is my No. 1 fave sauna. I call this the Goth Sauna. It's hidden behind the Carbon Bath. It's a huge room with sizzlin' hot stone floors and individual cubbies in which to lay and sweat and think about the things you've done. Walk in FAST and lay down QUICKLY. Violin movie soundtrack music sets a mournful tone, which I dig. It's dark and moody in here, and nearly empty. I love a good tomb.
Fifth Floor
The far-infrared sauna: The not-as-hot one, it's 132 degrees Fahrenheit in here. There's a view of Trader Joe's parking lot. You can sit in front of some slats while infrared rays hopefully maybe increase your oxygen flow and generally detoxify your toxic self.
Red clay sauna: Walls are ruddy red bricks and we're illuminated by an orange light. Perhaps this is what life on Mars will be like. Around 180 degrees, with a nostril-burning heat. Negative ions for dayyyys.
Himalayan salt sauna: This is the most popular sauna, probably because it glows millennial pink. Do not lick the hot salty bricks. As I lay my head upon a wooden yoga block refreshing my body's energetic biorhythms, I overhear two friends whispering but can only make out, "Shawna's a bitch and they hate each other." They take a selfie with a forbidden cell phone in front of the pink backdrop, risking, seemingly, everything.
Ice room: Not cold enough!
Sixth Floor
Food hall: The food is fairly priced, everything from made-to-order smoothies to a basic ass turkey sandwich to a spicy pork rice bowl with kimchi and miso soup. I get the bulgogi bowl ($12), in which every component is crowd-pleasingly mild. The pickled red onions have lost their bite. The meat a shade drier and grayer than my dream meat. I regret not listening to the teen who recommended the spicy pork. I wash it down with a delicious $6 coconut water.
Volcanic sand bath: For $20, this is one of the most affordable treatments on the SoJo menu. It's essentially a hot sandbox. I change out of my robe and bathing suit and into a pink floral cotton robe. I lay down and a man rakes 133 degree sand over me until I look like an Egyptian mummy casket; he props a paper umbrella on my chest to protect my face from the sun, though we are indoors. My heartbeat reverberates against the sand, faster and faster while the minutes pass by slower and slower.
Ten minutes in, I release my arms and pat my bulgogi sand belly. The nice man pats my forehead gently with a cold washcloth. At the 15 minute mark, I roll over and escape, dizzy, freaky feeling, and red and blotchy all over. "That's the blood circulation," an attendant reassures me. In a mini locker room, I rinse the sand out of my crevices and change back into my spa gear.
Seventh Floor/Roof
Work on your tan while the smell of ground beef grilling wafts over you. There's an outdoor grill up here somewhere with big juicy burgers and fat fries. Rentable cabanas to make out in. But you're here for the infinity pool selfie, come on. Make it happen!
Across the Street
Technically this isn't in SoJo but it'd be tragically remiss not to mention Mitsuwa, the giant Japanese grocery store and food court, across the street. After a day of spa-ing, you MUST stop in for udon and tempura and taiyaki. You came all the way here, didn't you?