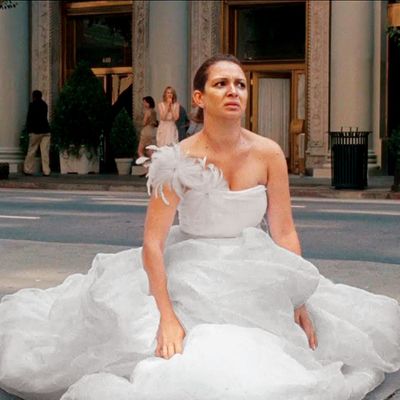 Photo: Courtesy of Universal Pictures
Jerry Pozniak, owner and managing director of luxury laundry service Jeeves New York, has been in high-end clothing care for 33 years.
My dad was a dry cleaner. That's how I got into the business. I've seen a lot, to say the least. Some of our clients are celebrities who use pseudonyms. All of our clients have fantastic wardrobes. But the stains are the same ones everyone has. We get red wine on a regular basis. Food, of course, though the more exotic stuff can be harder to get out. Anything with turmeric in it is really difficult. Squid ink, too. There's blood, urine, vomit, and a lot of makeup. We all have our bad moments. With the more embarrassing stains, you have to be as discreet as possible. We let the client tell us what they want to and then go from there. Oftentimes, they'll slide a bag over to you without a word. You stick your hands in it and immediately realize, Oh God, someone got sick on the garment. Then there are those who are less than truthful. A client in Palm Beach was at a party and fell. She told me that she'd skinned her knee and gotten "a little bit of blood" on it. It was literally covered in blood. It looked like something out of Dexter. Another client threw her cat under the bus when asked about a urine smell on a leather skirt of hers. "I might have left it on the floor," she said. "Maybe the cat peed on it." And when people say, "I've had chocolate ice cream," you know what it really is. People say vanilla ice cream, too, for stains of an amorous nature. You write down "ice-cream stain" on the ticket. But those who have the means don't have to explain themselves at all, because they have the housekeeper drop it off for them.
The No. 1 craziest story has to be the young lady who got married in an Oscar de la Renta gown that probably cost $25,000. They were on an island, and the photographer talked her into wading into the water for photos. When the shoot was over, they rolled up the dress and threw it in a plastic bag. Two weeks later, it's completely molded. Black mold everywhere. Unfortunately, the dress was destroyed. Then there was the daughter of a Hong Kong billionaire who brought in a custom white Chanel couture gown beaded with real pearls, not synthetic. She had gotten red wine on it. I would say it was a $500,000 dress. We did get the red wine out. It was a painstaking process — I did it myself. The dress never left my hands. And I called my insurance company before we started working on it to make sure that we had coverage for the dress. Heaven forbid something had happened.
Clients get emotional sometimes. We cleaned and preserved a wedding dress for a bride, only to have it sit in the store. When I finally called her after four months, she told me that the marriage didn't last. It was four months. She didn't want to pick it up, but I didn't have the space to keep it. That was tough. Just the other day we had a client who was really upset because her beautiful cream silk dress — I believe it was a McQueen — had bad underarm stains that weren't correctable. She was crying hysterically over it. You know, I really feel bad sometimes. I almost feel like I'm a doctor breaking bad news. Like, "So-and-so's not gonna make it."
*This article appears in the August 19, 2019, issue of New York Magazine. Subscribe Now!
More From the fall 2019 fashion issue
See All