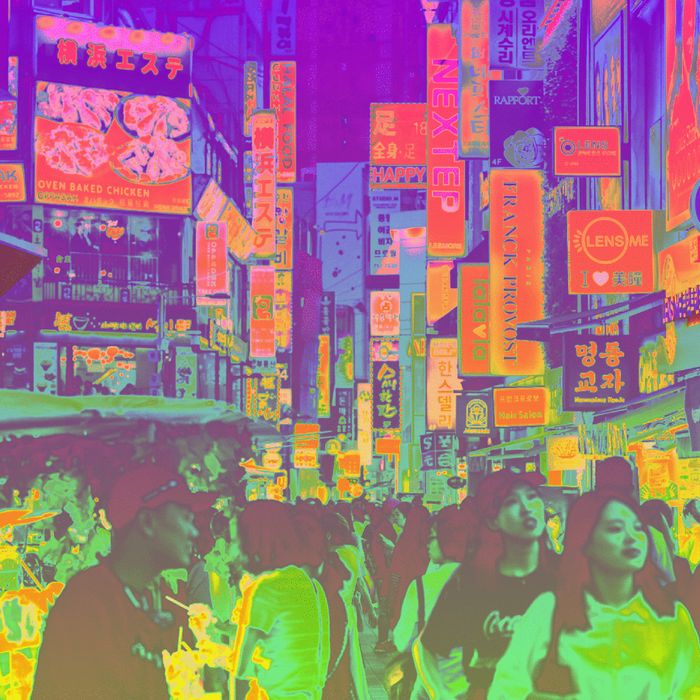 The Myeongdong shopping district of Seoul.
Photo-Illustration: by Stevie Remsberg; Photos: Getty
It's commonly understood that the best way to explore a new place is to go straight to the locals. Here, we asked Zoohyun Lee, beauty director at Vogue Korea, for her recommendations in South Korea's capital city.
"Seoul is definitely one of the trendiest cities in Asia. There is plenty to do in Seoul all year round, but I recommend spring and autumn as the best times to visit. Summer months can be hot and humid, and winter is cold and icy. Seoul is a unique destination for various reasons. The area of Dongdaemun offers 24-hour shopping, which is ideal for fashion and beauty fans. Korea is also known for its healthy food and, of course, the K-beauty boom. The keywords for K-beauty are 'cheap and chic' — the idea behind K-beauty is to be practical yet work effectively, so I am not surprised that the products are so appealing to Western consumers as well. I highly recommend 'one day, one sheet' masks — the difference they make to your skin is incredible."
Her Other Musts
Hotel
"One of my favourite hotels is the Four Seasons Hotel Seoul (97 Saemunan-ro). It's close to Gyeongbokgung Palace, the iconic seat of the Joseon dynasty, which is now a major tourist attraction. The Four Seasons is also close to the shopping area Myeongdong, where you can find all the international fashion brands, as well as numerous Korean skin-care and beauty shops, such as Innisfree, Nature Republic, and Too Cool for School.
"I am also a big fan of the Shilla Seoul (249 Dongho-ro). The rooms are cozy, with breathtaking views of the city. With five restaurants, you are spoiled for choice. They serve traditional Korean, Japanese, and Chinese cuisine, as well as French cooking — the food is simply divine. Pick up a dessert from the Pastry Boutique on the first floor on your way out — they serve some of the best cakes I've ever eaten!"