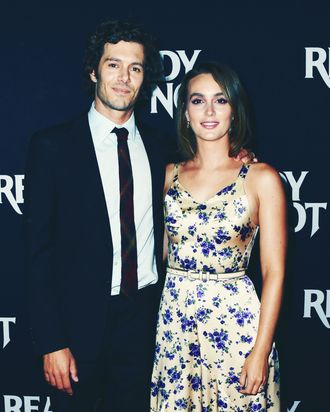 Photo: Jon Kopaloff/Getty Images,
It's been over a decade since The O.C. was on the air, but I still think of my No. 1 crush of the 2000s, Seth Cohen, every so often. Even more, I think about how crazy it was that the actor who played him, Adam Brody, ended up marrying a star from another aughts-era teen drama (Leighton Meester, a.k.a. Blair Waldorf from Gossip Girl, for the uninformed.)
In an interview with GQ, Brody was asked whether he thought that was weird, and, surprisingly, he does not. "It's not bizarre. To be perfectly honest, it was a little embarrassing," Brody said. "I guess love knows no bounds?" I guess, but isn't it a little bit weird? If we could compare this to '90s teen TV shows, it would be as if Saved by the Bell's Zack Morris ended up married to Beverly Hills, 90210's Brenda Walsh, but I digress.
Though both of their hit shows were produced by Josh Schwartz, Brody and Meester actually met on the set of The Oranges back in 2011 and tied the knot in 2014. They have a 4-year-old daughter named Arlo. During a joint interview with Entertainment Tonight in 2017, Meester shared her thoughts on the union between their characters and even joked about having a "Seth and Blair day." Meester said, "It's good for a laugh. It doesn't excite us, I think, because we're just human beings … but it's exciting to us that it's exciting to you. It's cool."
In his interview with GQ, Brody also talked about being isolated from the public while he was on the show. "It was pre–social media, so I wasn't interacting with the world at large that way," he said. "I even think there was so much less outlets for paparazzi, so I think there was less of that. I was dating my co-star for the majority of the show and all of our friends were dating each other, so there was this bubble." Brody has a bit of a history of hooking up with his co-stars; he also dated Rachel Bilson, who played his love interest, Summer, on The O.C. (The two ran into each other at the airport last week.)
Now please excuse me while I put on some Bright Eyes and start a Chrismukkah shopping list.