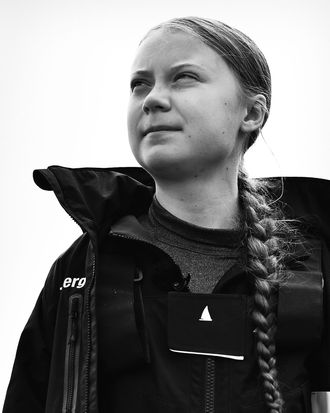 Greta Thunberg
Photo: BEN STANSALL/AFP/Getty Images
A few extremely balanced adults exhibited cool behavior yesterday when they decided to mock a teen on Twitter: 16-year-old Greta Thunberg, who set sail from Plymouth, U.K., on a two-week, carbon-neutral sailing voyage to attend climate talks in New York and Chile. Thunberg is a Swedish activist with Asperger syndrome who began striking from school to bring awareness to climate change in May 2018, and has since become a leader of the youth-driven international climate movement.
Retweeting a message by MP Caroline Lucas, a former leader of the Green Party, in which she wished Thunberg "bon voyage," insurance tycoon and Brexiteer Arron Banks horrifyingly implied that Thunberg could be endangered on the trip, saying, "Freak yachting accidents do happen in August …" Lucas justifiably reported him on the platform.
Banks later attempted to excuse the tweet as a joke, one that "lefties" and the "ludicrous tweeter mob" wouldn't get — and that he was actually worried that Thunberg was being "used" by climate activists. The concern trolling was the same tactic used a few hours earlier by his fellow conservative and Brexit cheerleader Julia Hartley-Brewer, a radio host, who directly addressed Thunberg in a tweet of her own.
"Hi Greta, I've just booked some long haul flights for my family to enjoy some winter sun on the beach this Christmas. Level of guilt being felt: 0%," she wrote. When she received widespread condemnation for writing this, publicly, to an adolescent, Hartley-Brewer said Thunberg was a "vulnerable child brainwashed and exploited to further their political aims."
As Britain endures its own record-breaking heat waves (other countries in the world have already become fatally hot for their poorest residents), and the U.N. continues to try and sound the alarm that mass, unsustainable migration, food, and water scarcity are also coming, it's heartening to see the adults in the room making fun of the youth. Who are they to fight for a future that isn't consumed by resource wars, where they might actually thrive, instead of warmly reminiscing around a nuclear-winter bonfire how they used to play Fortnite? Meanwhile, Thunberg, from her sailboat, reports she is sleeping well.