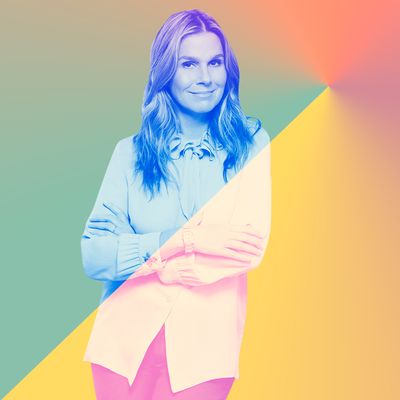 If you ask Aerin Lauder what the ideal day consists of, it would likely include a long walk with friends, a hearty helping of French fries to share with said friends, and fragrance — specifically, creating it.
"I love when all the pieces come together, seeing it in its beautiful bottle for the first time," says the founder and creative director of AERIN. "There's nothing more rewarding."
AERIN'S most recent reveal is Limone di Sicilia, a citrus floral blend of bergamot, muguet de Mai, Italian mandarin, jasmine, and oak moss that she says was inspired by the region's sunsets. This marks her 23rd fragrance — quite a large number for a seven-year-old brand that didn't even include scents in its original launch.
"The line was more makeup- and color-focused," explains Lauder, who also holds the title of style and image director at Estée Lauder. "We did a weekday palette and a weekend palette, and a few neutral lipsticks. Fragrances came a few months later."
Ranging from the nuzzly Amber Musk to the elegant Tuberose Le Soir and the outdoorsy green Éclat de Vert, Lauder has inherited her knack for scent from her grandmother, as well as the belief in maintaining a full-on wardrobe of it.
"Estée always said, 'You wouldn't wear the same dress to play tennis as you would when you go out to dinner, so why would you wear the same fragrance?'" professes Lauder. "I believe in choosing it depending on your mood and feeling, not just for day and night, but also by season and occasion."
After soaking in grandmere's bon mots as a child, Lauder spent college summers interning at different brands at the family company, then started her career at Prescriptives, the erstwhile brand that pioneered custom foundation and powder as well as the iconic grapefruit-based scent Calyx (now under the Clinique umbrella). From there, she moved to the Estée Lauder brand, where she served as creative director.
"I'll never forget presenting layouts to my uncle [Leonard Lauder]. He taught me about how ads needed to have consistency and legibility, and how the product should always be on the right," she remembers. "I still bring a lot of that my meetings."
Like her uncle and her father Ronald, Aerin graduated from from the University of Pennsylvania, and now her own sons will be upholding the tradition: Jack will be a sophomore and Will, a freshman. Grandpa is going along for the ride.
"My parents are coming with us when we drop them off," she says. "We thought it would be really fun for them to experience that."
Lauder spoke to the Cut about the texts that make her day, her impersonating skills, and the Disney character she wished she was named after.
What's your definition of beauty?
Beauty is confidence. Estée always said "If you are beautiful inside, you are beautiful on the outside."
What do you think when you hear the term "clean beauty"?
Products that make you feel good and are good for you.
What is your morning skin care routine?
Estée Lauder Re-Nutriv Hydrating Creme Cleanser, no toner, then Re- Nutriv Ultimate Lift Regenerating Youth Creme and Eye Creme. I also never leave the house without a fragrance. I have a wardrobe of them for my changing moods and styles. Estée also said the best way to apply fragrance is to spray it into the air and walk into it.
What's the last beauty product you use every night?
Estée Lauder Advanced Night Repair — it goes with me everywhere and I've used it every day for as long as I can remember. It gives my skin a gorgeous glow.
What do you line your eyes with?
Estée Lauder Double Wear Stay-in-Place Eye Pencil in the shade Coffee.
Mascara of choice:
Estée Lauder Sumptuous Mascara in Black.
Base of choice:
Estée Lauder Re-Nutriv foundation.
What, if anything, is usually on your lips?
AERIN Rose Lip Conditioner — it's become a cult favorite. It's a universal, nude shade that works alone or adds an extra polished look over any lipstick. It has a beautiful light rose scent and is super moisturizing.
What shade, if any, is usually on your toes and/or hands?
Netural tones.
What makeup item would you never skip?
Bronzer — it is the quickest way to look awake and healthy.
Facial cleanser of choice:
Re-Nutriv Hydrating Creme Cleanser.
Preferred sunscreen and SPF #:
Clinique Broad Spectrum SPF 50 Sunscreen Face Cream.
Bath or shower? Preferred bath/shower product:
I only take baths (except when I wash my hair), and AERIN Tuberose Shower Gel is a favorite.
What discontinued product do you mourn?
AERIN Bronzer.
What beauty product still needs to be invented?
Advanced Night Repair Self Tanner.
Facialist?
Aida Bicaj.
What constitutes a good facial?
When I leave feeling relaxed and reenergized.
What can ruin a facial?
A phone call.
What aspect of your beauty routine tends to be neglected?
Body moisturizer.
Daily carry-all: 
We have a Mini Weekender that I love. We first made an oversize Weekender but people wanted to use it as a handbag. I use that about 70 percent of the time, and the rest of the time, it's usually a vintage Hermes Kelly bag of my grandmother's.
What is your classic uniform?
In the summer, when it's so hot, I wear dresses more — usually Giambattista Valli. Otherwise, a silk shirt from Valli or The Row, Prada pants, and a Stella McCartney blazer. And usually with Tabitha Simmons or Manolo Blahnik kitten heels.
Favorite smell?
Fresh flowers.
Least favorite smell?
Cigarettes.
Comfort food:
Edelweiss Chocolate.
What do you splurge on?
Jewelry.
What do you scrimp on?
I never have tape in my home.
If you could have infinity anything, what would it be?
French fries.
Favorite meal and where:
Steak and French fries at a bistro. I am very happy the new Pastis opened up.
Most impressive dish you make:
A cheese omelette.
What food would you never eat?
Frogs legs.
What would the name of your autobiography be? 
Everything Can Be Beautiful If You Take the Time.
Who would star as you in the film adaptation?
Natalie Portman.
When you were little, what did you wish your first name was?
Cinderella.
Any hidden or secret talent or skill you possess?
I can mimic anyone.
What was the most recent interesting conversation you had?
I sat next to [artist] Clifford Ross at a dinner. I am always inspired by his talent and personality.
What makes your skin crawl?
The dentist.
What tiny thing can make your day?
A text from my sons.
What do you most often disagree with others about?
Parenting.
What must you adjust or fix when you see it done incorrectly?
A very messy room.
What do you think Pantone's color of 2020 should be, and why?
Sea Blue. I'm always inspired the Mediterranean and always love incorporating blues throughout my fragrances, whether it's the rich blue in Mediterranean Honeysuckle or the pale blue in Aegea Blossom.
What product in your domain is misunderstood and should be a best seller?
AERIN Rose Night Table Cream. It can be used as a face cream or moisturizing overnight mask. It's perfect for dull or dehydrated skin.
What product is currently your favorite (understanding that this could change all the time)?
AERIN Rose Lip Conditioner has always been one of my favorites. It gives my lips a natural, glossy finish and I never leave home without it.
What do you foresee as the top beauty trends for 2020?
I am definitely seeing a revival of no makeup-makeup and a return to clean, fresh skin. You don't need dozens of products or a complicated routine to look gorgeous.
If you buy something through our links, New York may earn an affiliate commission.