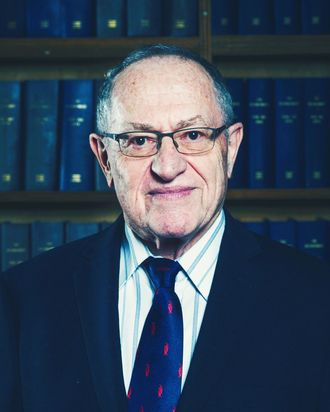 Alan Dershowitz.
Photo: Roger Askew/Shutterstock
Here's how Alan Dershowitz, famed attorney and one-time Martha's Vineyard shunnee, has responded so far to coverage of his connections to the Jeffrey Epstein scandal. First, there was the July Newsmax op-ed denouncing a New Yorker piece about his relationship with Epstein. Then, the 80-year-old — who once helped the late billionaire and accused pedophile secure a lax plea deal from Florida prosecutors, and currently stands accused of having sex with two of Epstein's alleged trafficking victims — decided to share his thoughts about lowering the age of consent, and to tweet about his "perfect, perfect sex life." Well, one might be forgiven for thinking, at least it can't get anymore tone-deaf than that.
Alas.
As Jewish Insider reporter Ben Jacobs shared in a tweet this week, Dershowitz was scheduled to take part in a mock trial at New York's Temple Emanu-El in November, in which he would defend biblical characters accused of "kidnapping and child trafficking." Also part of the event: former New Jersey governor Chris Christie, who would serve as prosecutor, and a special performance from original cast members of Broadway's Joseph and the Amazing Technicolor Dreamcoat.
The event was canceled on Wednesday, the Temple told the Cut, "after careful consideration of the topic in light of recent events."
Dershowitz himself told "Page Six" that the move "was agreed upon by everybody. It was a question of the subject." He added that having his face on a poster under the words "The charges: kidnapping and child trafficking" didn't look great.
"The title was so provocative in the wake of Epstein's suicide," he said – implying, it seems, that the title hadn't been as provocative before, when the accused trafficker he had defended in real life was alive.
In any case, now we'll never know whether Chris Christie would have dumped nachos on Dershowtiz as part of his closing statements.