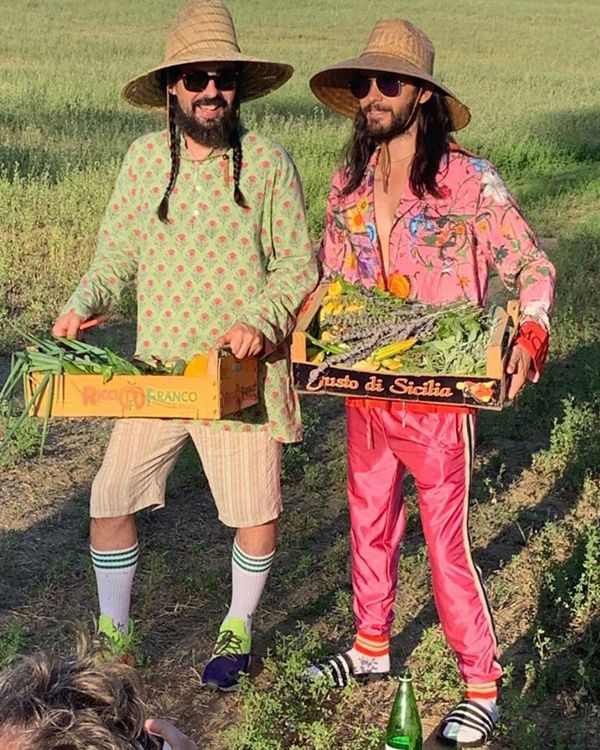 Photo: @alessandro_michele/Instagram
Fashion month is only a few weeks away, but impending deadlines have never stopped designers from taking the full month of August off. If you're Simon Porte Jacquemus, it's a sacred time, involving lots of sunny selfies and matcha runs with friends like Kourtney Kardashian. Burberry designer Riccardo Tisci has spent the last few days posing shirtless in Mykonos. And Maryam Nassir Zadeh has been enjoying a more bohemian summer, as evidenced by her blurry vacation photos on Instagram.
There is one vacation photo that trumps them all, though, and it's this one (above) by Gucci designer Alessandro Michele. He poses with his bearded doppelgänger, Jared Leto in the middle of what appears to be Sicilian vegetable field. Both men wear matching Gucci straw hats over their long, luscious manes, with Michele's braided into pigtails. They also both wear loud Gucci printed shirts, Michele in green and Leto in head-to-toe pink. They both cradle a colorful harvest in their arms. "My solitary summer," reads the caption.
There's a lot to take in here. First, I love the fact that Michele uses the word "solitary," as though Leto has become an extension of himself; he is his shadow. Call Michele by Leto's name and Leto by his, etc., etc.. (There also appear to be at least two people with them taking photos.) Second, I love the idea that these extremely clean men harvested these flowers and vegetables themselves. Did they actually get their hands dirty? Or did they just buy this bounty on the side of the road? Are they lost?? And finally, I love that, no matter what they were doing, this is what they wore to do it, like two stylish scarecrows. It's beyond prairie-core. It's the most insane, wonderful rustic Italian vacation fantasy I've ever seen. Can you imagine running into these two at the farmer's market?