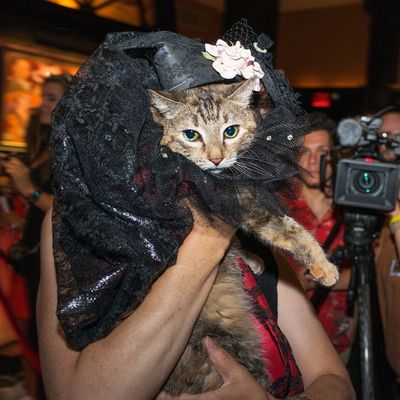 The cat modeling "Spain."
Photo: Beth Dixson
Five minutes after the Algonquin Hotel's annual cat fashion show is scheduled to begin, one of the models is nowhere to be found.
"Joe DiMeowgio," a PR woman in a cat-ear headband whispers to me. "He's late."
Outside of the frantic handlers, though, no one seemed to notice or mind. The guests, most of them clad in tasteful feline-themed clothing and accessories, milled about the lobby, sipping wine and balancing small plates of sweaty cheese and charcuterie — and, of course, discussing cats. One woman tells me she's working on a podcast about cats. "Well, it's not about cats exactly … it's still in production." Another asks me if I have cats, and when I tell her I have a dog, says, witheringly, "I could tell."
The cat fashion show, which raises money for the Mayor's Alliance for NYC's Animals, has been taking place at the Algonquin for 11 years. It gestures toward the hotel's storied feline history; since the '30s, the establishment has had a resident cat, always named Hamlet (or Matilda, if she is a female). Although I don't get to meet the current Hamlet-in-residence, Hamlet VIII, who I'm told is behind the front desk, wearing a bow tie and serving as a "host-slash-producer" of the show, I do meet his reiki healer, Carole Wilbourn. "Hamlet needed a lot of reiki, because he needed to be on all the time, plus the residual angst of being abandoned," she explains.
Eventually, Joe DiMeowgio arrives, carted in like a true celebrity. From the inside of his stroller, his small, flat face pressed up against the mesh window, he eyes his audience. He looks unimpressed. He is rolled past the vertiginous tables of hors d'oeuvre, back to a side room where his fellow, more punctual models have been preparing for hours, familiarizing themselves with their outfits, posing for photos, napping.
The cats have been styled by Ada Nieves, an FIT-certified pet fashion designer who has put together the cat fashion show's themes and looks for the past six years. This year, to celebrate New York's diversity, Nieves made the theme "It's a Small World," with each cat wearing a look that represents a different country — the U.S., Ireland, China, France, Spain, India, Germany, the U.K., and Egypt.
Inside the prep room, the talent is calm, collected. These are seasoned professionals, who have been specifically selected by Nieves to participate in the show. Cannoli and Wasabi, a pair of hairless cats, have done extensive TV and commercial work — Cannoli recently booked a commercial for a computer, and Wasabi is on the new season of HBO's Succession. Originally, Cannoli was supposed to wear Nieves's Chinese-themed look, a red silk jacket with a dragon on the back, but he gained ten pounds this year, so now Wasabi is wearing the red garment, and Cannoli is wearing a German-themed, lederhosen-esque outfit, which is more billowy.
Folds, a Scottish fold who's modeling a Brit-punk look with a leather jacket, Mohawk, and purple sunglasses, hasn't done TV, but he does have over 53,000 followers on Instagram. Next to him, the black cat in a pharaoh's headdress looks like a small, hairy man who needs to be pulled aside by a patient friend at a Halloween party and have the concept of cultural appropriation explained to him.
In the lobby, people crowd behind red-velvet ropes to get a good view of the "catwalk" (sorry). Before the show, two opera singers perform "Duetto buffo di due gatti", a piece whose lyrics consist exclusively of the word "meow". It's quite lovely.
Finally, the runway begins. The cats, it turns out, do not walk; they are carried, like animal royalty. The audience, to put it mildly, loses their shit. Guests jostle to get pictures on their iPhones. Tense words are exchanged between two photographers near the end of the runway, one of whom accuses the other of blocking his shot. The cats, consummate professionals, remain unperturbed.
Near the end, Joe DiMeowgio appears, appropriately, in a small Napoleon costume. His owner holds him aloft, in front of her face, his long gray fur puffing out of his blue military jacket. At the end of the red carpet, she lifts him up even higher, like a grumpy Simba. People gasp, flashes explode. Joe DiMeowgio looks down on the scene below him, yearning, I imagine, for his own exile to Elba.
Correction: An earlier version of this post incorrectly stated that the two opera singers sang a Rossini piece, and replaced all of the lyrics with "meow". In fact, they sang the "Duetto buffo di due gatti," a piece widely-attributed to Rossini, whose only lyrics are "meow" over and over again. This is a very cool, very real song, and we apologize for the mistake.