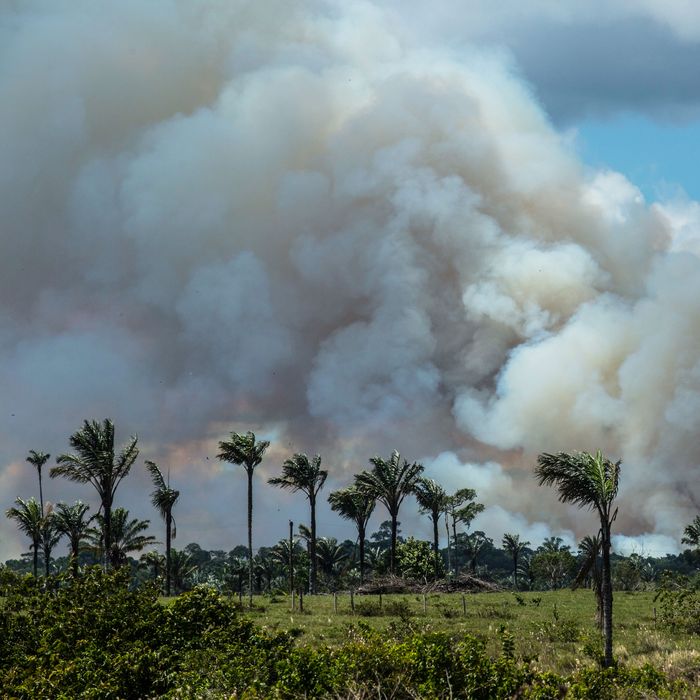 Photo: Dado Galdieri/Bloomberg via Getty Images
I started waking up in the middle of the night in fear of climate change about five years ago. I was living with my parents in Southern California, and every day I discovered around me new signs pointing to the death of the world.
It was fall; their lawn had been bleached to straw by drought. I hiked the Santa Ynez Mountains with my dad, who ran his hands along rocks stained with the memory of creeks and falls, marveling, "The sound of rushing water used to be so loud here." He was 13 the last time it snowed in Los Angeles — measly flakes that barely covered the street, but still.
Looking out from the trail at the Pacific, I imagined it rising up along the coastline and changing its whole shape. We didn't know that in three years, fires would make the mountains and the foothills even more bone dry. And that a year after that, rain, when it finally came, would roll down with the force of a tidal wave, washing a body up on the beach.
I cried on the hikes, at the dinner table, when I couldn't get to sleep, when I woke up from it. We tried carving pumpkins on Halloween and I was humiliated to find the feel of the cheap plastic knife sinking into the fruit's flesh unbearable. Whatever had been separating my intellectual understanding of what was happening to the planet from my emotional state had collapsed.
Worse were my parents looking at me like I was temporarily disturbed instead of like I was reacting to something that was actually happening. They told me they were sure my anxiety was a delayed response to an event that had occurred two years earlier: the loss of my partner to an extremely rare cancer that took his life in nine months, from diagnosis to death rattle. That seems practical, I thought, and waited for the feeling to go away.
Still, sitting up at night on my laptop, I sought out the like-minded. I learned from a friend about an organization called The Climate Mobilization. It intrigued me because it was run by a woman trained as a clinical psychologist named Margaret Klein Salamon. I thought maybe I could try talking to a climate therapist in addition to my behavioral one, someone who wouldn't make everything about me, when all I wanted to talk about was the whole world.
I ended up interviewing Margaret on the phone for a literary magazine. Her climate psychology work, funnily enough, had started with trauma. She had written a dissertation on women with romantic partners who had experienced a psychotic episode, and the tactics they used to endure terrible upheaval in their lives.
After this work was completed, she saw that most people used similar methods to avoid the terror of climate change, and that denial had created a massive lack of solidarity on the issue among family members, friends — networks who were used to talking about all the things that hurt them, except this. She devised a pledge that people could ask their loved ones to take, a kind of climate-change-awareness pyramid scheme, so that they could have a way to share their pain, to let them feel bad together.
We tend to think that the realm of the personal supersedes the global, but it makes sense to me that, instead, intimate grief can be the locus at the center of tenderness for the planet. Watching a young, healthy person as he took his last breath had left me porous, hysterically aware of my own smallness and mortality. I wasn't displacing my mourning — it was simply expanding. I was suddenly awake to the fragility of everything: the eaves of my parents' old house; kumquat bushes in their front yard; hatch chili salsa every August; the 101 hugging the ocean; water in Lake Cachuma; walking out at low tide. Their potential loss struck me like an earthquake, splitting the future open.
Sadness isn't an endpoint; neither is fear. I don't cry all the time anymore, though I cried last night, watching a video of Indigenous women singing in the streets of Sao Paulo to protest the fires raging in the Amazon, the product of agribusiness unleashed by a greedy, nihilistic president.
For those of us who haven't yet seen climate change fill our lungs with toxic air, fill our pipes with poisonous water, carry away our homes, kill our crops, or drown our families, grief is an aperture. It's an opening in the soul where the pain of those faraway people can rest with yours. And where you can start to be willing to consider a future different from the one you imagined, to redress an epically uneven distribution of suffering.
In my weaker moments, I tend toward ironic detachment when confronting massive-scale horrors like the burning of the Amazon, posting something cooly depressed. Or I look away entirely, which I tell myself is an act of self care. The brain simply can't take it all in. I don't think that's true — we just don't have the language for it yet. Or we're not used to applying the language we reserve for talking about our private tragedies to collective pain.
At least, we aren't used to it here. On Sunday, a team of researchers, activists, politicians, and regular, despairing people in Iceland held the first known funeral for a glacier. They hiked two hours up a volcano on which 15 square kilometers of glittering ice used to stretch, and where there are now long patches of bare rock and shallow puddles. The memorial plaque they installed on top of Okjokull, declared extinct a decade ago, lists the record amount of carbon in the air when it was inscribed, 415 ppm of CO2, a number that has only gone up. The glacier was issued an official death certificate.