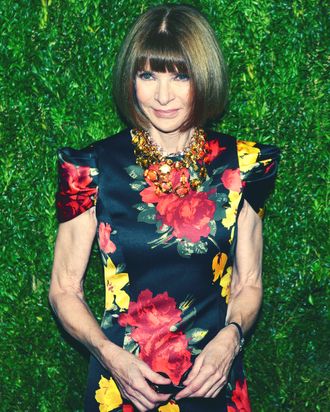 Anna Wintour.
Photo: Erik Pendzich/Shutterstock
As Kanye West and Jay-Z asked in 2011, "What's a king to a god?" A more modern, media-centric version would be, "What's a promotion to Anna Wintour?" The woman is already editor-in-chief of Vogue, artistic director for Condé Nast, a Dame, and the inspiration for Meryl Streep's greatest role. But today, she has another new title. Condé has announced that Anna will also be its global content adviser. She will, according to a release from the company, "advise the executive leadership team on global content opportunities and act as a resource to editors-in-chief and editorial talent worldwide."
Ostensibly, this is a new set of responsibilities. It's part of a new leadership team that oversees the international and domestic brands. The new CEO, Roger Lynch, said in the statement he was "confident that our new global structure will better enable us to collaborate across teams and markets and, ultimately, deliver unparalleled experiences for our consumers and clients." Also on the global content team is the New Yorker's editor-in-chief, David Remnick, and the president of Condé Nast Entertainment, Oren Katzeff. So you hear that, rumor mill? How could a retiring person do this?