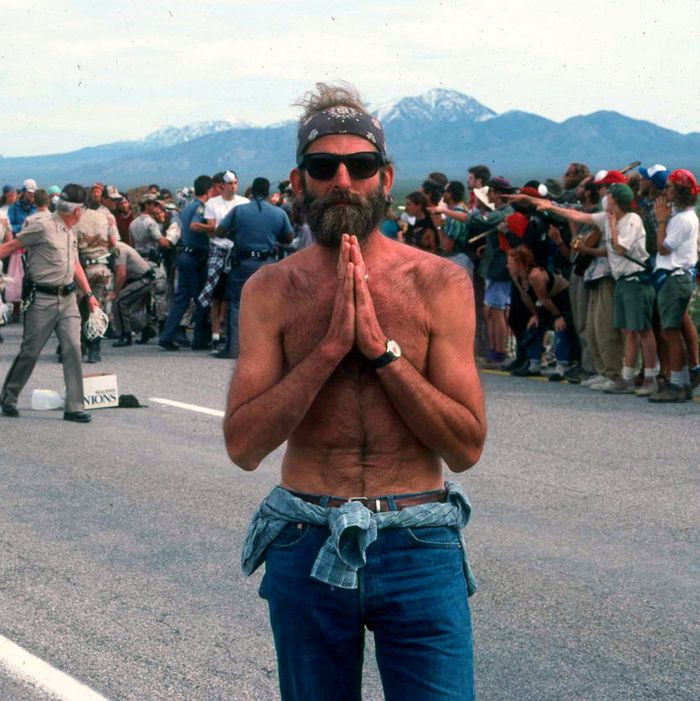 Rick Springer.
Photo: Provided.
One morning, when I was 15 years old, my stepfather threw a chair at me. It missed my head and crashed into the wall as he berated me for failing to clean up after my breakfast. My stepfather's name was Rick Springer, and in the '90s, he rose to prominence as an anti-nuclear activist. In April 1992, he rushed the stage of a convention center in Las Vegas while Ronald Reagan was giving a speech and smashed a 30-pound crystal sculpture of an eagle, an award recognizing the former president's contribution to the profession of broadcasting. "There is a nuclear test going on!" he yelled to the crowd as he was carried off by the Secret Service.
Rick was a veteran activist and had founded the Hundredth Monkey Project, an anti-nuclear group. He became famous in progressive circles because of the Las Vegas incident and worked with environmental groups and taught workshops on nonviolent protest. But at home, instead of crystal eagles, he hurled whatever else was at hand: plates laden with food, tools at walls that got in his way, and insults at our bodies. For a decade, Rick's anger made my home a place of fear, but his reputation as an activist and pacifist was never affected by this legacy of abuse.
In recent months, as the Democratic-primary contest has intensified, I've been alarmed by a similar dynamic: powerful men from the "good" side avoiding accountability despite problematic behavior, past and present. Joe Biden and Bernie Sanders, in particular, seem to hide behind good works as troubling allegations emerge — their misdeeds are of a different nature than Rick's, but the narrative is the same.
Shortly before the launch of Biden's campaign, Lucy Flores and several other women came forward with stories about his inappropriate behavior. Yet Biden's fundraising efforts have eclipsed those of most of the Democratic field. And when Anderson Cooper asked Sanders if he knew about sexual harassment and pay inequities perpetrated by male staffers during his 2016 campaign, he said: "I was a little bit busy running around the country." Later, he released a formal apology. Nomiki Konst, one of his prominent supporters, told the New York Times that sexual harassment should be dealt with immediately but cautioned, "#MeToo is not a political weapon. When we start to use the #MeToo movement as a political weapon it starts to weaken it." Konst is just one voice in a chorus insisting that we should be focusing on the real issues and not going after one of our own.
For years, I worried that if I spoke up, Rick's supporters would come after me or my family. But the #MeToo movement has helped me see that the only person who is served by silence is the abuser.
The night I met Rick, he moved into my home. I was 10 years old and my sister, Sarah, was 5; our parents had split up some months earlier. My mother sat us down and told us she was seeing someone she liked very much. At the time, my mom, Carol Andersen, was 44, an artist and an activist. The crystal-eagle incident had earned Rick a $2,000 fine and a year behind bars; when he was released at 43, he moved to Arcata, the small college town in Humboldt County that we called home.
Arcata is populated by creatives and activists settled among declining logging and fishing industries. Rick was helping a local environmental group organize a rally to protect a section of old-growth redwoods and my mom volunteered to design a poster. She liked that Rick was organized where she was messy, that he was focused where she was distracted. She told us that we were going to meet him, but she didn't mention Rick would be moving in after dessert.
Soon afterward, their differences became even more pronounced. My mom slept late and was lax about housework and playtime, whereas Rick admired Captain von Trapp from The Sound of Music — before Maria comes along. He said he was going to get a whistle so he could summon Sarah and me. They never married — a common arrangement in our hippie community — but within the year, Sarah and I were expected to call Rick our stepdad.
After Rick moved in, he started teaching us his rules. We weren't supposed to raise our voices because it was considered "violent." Sarah and I needed to learn to talk to him with respect, so Rick read to us from handouts on nonviolent communication, a method developed in the '60s that stressed the language of compassion rather than that of domination. The main tenets of nonviolent communication are the vulnerable expression of one's own feelings and needs coupled with empathetic listening. He taught this same method to activists in workshops. When we failed to be respectful, he yelled at us. If Rick became angry with Sarah, he grabbed her arms or neck. His hurricane of anger swirled around our house, but he was careful not to leave marks.
Recently, my mother described Rick's anger as "violence that wasn't focused at you but around you." When we were kids, my mother tried to clean up the mess of his temper. She would take Sarah and me out of the house until he cooled down. She would get in his face and tell him to stop, their anger eventually dissipating once they were both exhausted from fighting. She would break up with him. He would always come back; the puttering of his VW van down our driveway was enough to bring me to tears.
When I was a teenager, Rick started buying 100-pound bags of oatmeal, one of his many strange fixations regarding food. He insisted we eat it for breakfast every day until the bag was empty. He once made my sister eat cereal with orange juice because we were out of soy milk, and he discouraged us from consuming dairy — while eating pints of Ben & Jerry's himself. My mom was average-sized, but he criticized her weight and convinced her that he could manage our eating habits more effectively. He regularly took everything that was nearly expired or growing mold and chopped it up to scramble with eggs. He called it "Rick's Special." He viewed food waste as the epitome of what was wrong with Americans, and we were expected to adhere to his spartan habits to help atone.
Before Rick's arrival, our house was pleasantly messy. After he moved in, if Sarah and I didn't clean up our things, he might throw them away to teach us a lesson. At other times, Rick dictated how often we could shower and for how long. I was dealing with new body odors, bad skin, and first periods; sometimes, I'd sneak in showers at other people's houses. When I was 12, I was too scared to ask him if I could start using deodorant. I learned to hide things, to speak in code with friends on the phone, to read the room for his moods. I felt like I didn't have ownership over my things or my body; everything could be taken away or denied if Rick was angry.
Rick suffered from depression and spoke often of suicide. He used to say he wished he could take a pill and disappear from everyone's memory. On and off, he attended AA, tried family counseling, and joined a men's group where guys beat drums around a firepit and talked about masculinity. These attempts at emotional growth were cyclical: My mother would leave him, he would come back with a promise to get help, he would revert to old behavior, and the cycle would begin again. Each time, he returned with a new set of promises for my mother, and each time, she made her own set of promises to Sarah and me. She would tell us that this time would be different, that Rick would be different and we could be a happy family. But his coping skills never seemed to evolve. With time, I've begun to feel empathy for Rick and his issues, but when I lived with him, fear and anger overshadowed everything. Somehow, Rick seemed to believe that love and respect would develop out of that fear.
When he and my mom fought, he attacked her weight and belittled her for setting a poor example for us because she wasn't thin enough. His name for my sister when she hit puberty was Piggy. He routinely called us spoiled American brats despite the fact that our sources of income were my mother's artist-in-residency stipend and a little help from my grandmother. He defended his parenting methods, asserting that without him, we'd be fat and our lives messy and untethered. He told my mom, "Everything would be great if you just did exactly as I said all the time."
At first, Rick didn't drink in front of us. My mother did not know about his substance abuse when they first got together. But eventually, my mother found hundreds and hundreds of empty bottles and cans hidden inside the walls of our garage. Soon, his alcoholism and anger came to live in the open. My friends' parents stopped letting them come over.
Several years into their relationship, my mother discovered that Rick was having the first of many affairs; she threw rocks at the woman's house, aiming for the windows, while Rick sat inside. Then she drove home and set his bike aflame. It was one of his favorite things: the bike and travel cart he had used to travel across the country multiple times. My mom, Sarah, and I stood in the driveway while it burned, watching the dark smoke drift toward the bay. I can still remember her face, angry but satisfied, her blue eyes turning a steely gray. The public nature of her actions created a narrative. I overheard other parents talk about her breakdown and watched as our community lined up in defense of Rick. She was labeled crazy while he was lauded for putting up with her.
I was angry with my mom for allowing this man into our home. Once, I threw a drawer of silverware at her in a rage. She tried to protect us and take on the brunt of his anger. Like many people who love an alcoholic, she cleaned up his messes, justified his sickness, and wallowed in denial. Recently, I asked my mother if Rick was ever violent; she paused and said, "It was an act of violence when he drove drunk with you and Sarah."
At other times, I felt sorry for my mom. She stayed because she loved Rick. We spent years arguing over her decision to be his partner. As I have gotten older, the conversations have become more nuanced. Eventually my mom and I went to therapy together. I heard about my mother's father, how he withheld love, criticized her, and made her feel like she wasn't good enough. I saw her own trauma and deep regret. I came to see that my mom was in an abusive relationship with a man who went after her confidence and convinced her she couldn't do better.
As a child, I struggled to reconcile how other people saw Rick and how I felt about him. I felt guilty hating a man whom others admired. In our circle of friends, a straight older couple knew of Rick's drinking and verbal abuse. The woman had been a victim of childhood abuse, and the way Rick acted around my sister and me aroused her concern. She pulled my mother aside and asked her if Rick was sexually abusing us. My mother made it clear that Rick hadn't crossed that particular line. The woman continued to embrace him as a friend and hosted a fundraiser to help Rick self-publish a book. Interactions like this reinforced my belief that Rick's contributions to the environmental movement were more valuable than the women he belittled and abused.
In fact, people in Arcata often told my sister and I how lucky we were to have such an amazing stepfather. When I have tried to describe our lives with him, I've encountered disbelief, resentment, anger, and, most baffling of all, sympathy for Rick. "Of course he drank," a man who had worked with Rick on a local environmental project told me at the local farmers' market, almost yelling in his fervor. "He was trying to save the world." I stood in silence, vegetables in hand.
My sister and I both grew up to be alcoholics and addicts. Sarah turned to diet pills and bulimia in her teens and, not long after, to alcohol and opiates. I struggled with my weight since I started hiding food from Rick. Eventually, this evolved into secret binge eating and, later, secret purging. I've dated multiple alcoholics and was involved in verbally abusive relationships for the better part of my 20s. I cheated on partners. Did I take what was modeled for me and think, This is what love looks like? It has taken 15 years of therapy and 11 years of sobriety to understand that I was carrying on cycles of addiction and abuse. Rick was only a part of that cycle, but he was an important one.
My sister had a harder time. When Sarah was 24, she died of an overdose. Who would she have been if our community had protected her? Would things have been different if the man who preached peace outside of the house would have fostered it at home? I think about how my sister would have fared if she hadn't been told how stupid, lazy, and ugly she was by a man who should have been one of her champions.
The last thing Rick ever said to me was that one day I would find him and thank him for how he parented me. I was close to 20 years old; my mother would leave him for good three years later, in 2006. She has not had a partner since; instead, she paints every day at her studio and lives in her old farmhouse surrounded by goats, cows, donkeys, and two dogs, grieving for her youngest daughter.
I've spent years thinking of how I'd articulate the harm Rick did to me, but I never got the chance. In 2010, Rick shot himself in the head. Under the news article about his suicide, friends, family, and fans lauded him as a pacifist, a dear friend, a man with a heart of gold.
This essay is adapted from Rose Andersen's book The Heart and Other Monsters, forthcoming from Bloomsbury in July 2020.