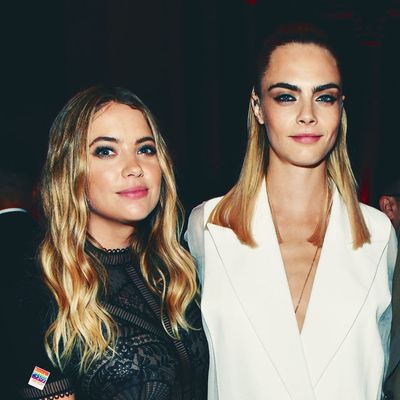 Ashley Benson and Cara Delevingne.
Photo: Craig Barritt/Getty Images
Noted beautiful couple Ashley Benson and Cara Delevingne are now metaphorically joined at the hip by the power of permanent body scrawl.
On Friday, tattoo artist JonBoy Instagrammed an image of Benson's hip bone, freshly inked with the word "squish," believed to a be a nickname for her beloved. If so then this is the second tattoo Benson has gotten in tribute to her girlfriend, the first being the letters "CD" on her underarm/rib cage area.
So why do tabloids think this latest tattoo is a reference to Delevingne? I mean, aside from the fact that the two co-own a sex bench, are possibly secret wives to one another, and have gotten devotional tattoos in the past? Well, in April Delevingne posted a childhood picture of herself on Instagram and captioned it (emphasis mine), "#tbt this is a very rare picture of me in a dress looking pleased with myself because I most probably had shorts on underneath. Once a squish, always a squish. My head was half fringe, half face. Squished." Benson reportedly commented on the post with the word "squishy."
To me, "squish" feels like it is in the same family as the immensely documented siren call of "run me over with a truck," "step on my neck," "crush me" and so on which emanates from celebrity fan bases the world over, but democratized. It translates roughly to "the great admiration for a lover that inexorably leads toward a desire to squish them and be squished in return."