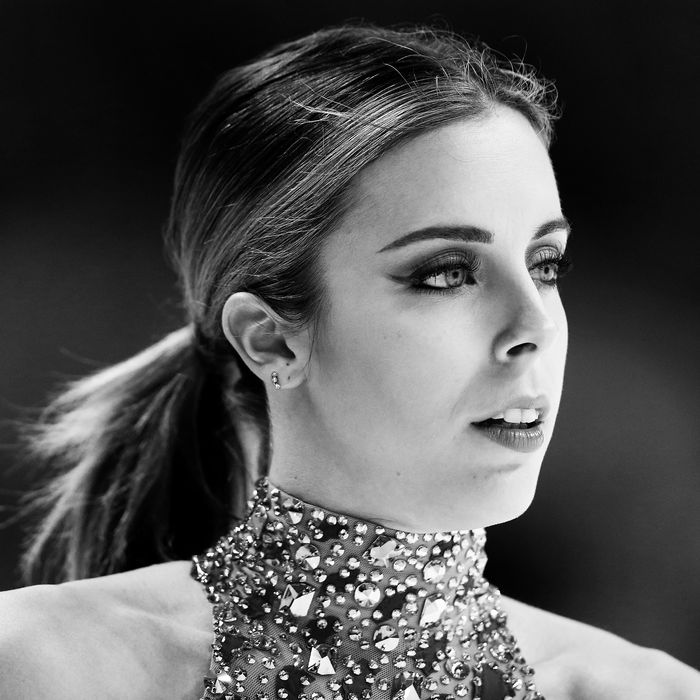 Photo: Matthew Stockman/Getty Images
In an essay published this morning in USA Today, Olympic bronze medalist Ashley Wager alleged that she was sexually assaulted by fellow figure skater John Coughlin in 2008, when she was 17.
Wagner wrote that the incident occurred after a party while she was attending figure-skating camp in Colorado Springs. "I had always been hyper-focused on skating, so I had never been to a party before," Wagner wrote. "As the party wound down, no one could drive me back to the hotel where I was staying, so a few other girls and I had to spend the night."
Wagner alleges that, while she was sleeping, Coughlin, who was 22 at the time, came into her bed and started kissing and groping her. "I pretended to be deep asleep, hoping he would stop," Wagner wrote. "He didn't. When his hands started to wander, when he started touching me, groping my body, I tried to shift around so he would think I was waking up and would stop. He didn't."
After about five minutes, Wagner says she started to cry, and grabbed Coughlin's hand and told him to stop. He did, and left the room. "The next morning, he acted like nothing happened, so I acted like nothing happened," she wrote. "I thought I had misinterpreted it all … No one had explained consent to me."
At the time, Wagner says that she told two people close to her about what had happened, but otherwise kept quiet, fearing that if she came forward, she would be seen as dramatic and difficult. "I was a young skater coming up through the ranks in a judged sport," she wrote. "I didn't want to stir the pot. I didn't want to add anything to my career that would make me seem undesirable or dramatic. I didn't want to be known in figure skating as the athlete who would cause trouble. And I genuinely didn't feel like anyone would listen to me anyway. Everyone really liked this guy. I even liked him."
Wagner wrote that the decision to name Coughlin was difficult: Coughlin, a two-time U.S. pairs champion, coach, and television announcer, died by suicide in January, a day after he received an interim suspension from the U.S. Center for SafeSport. At the time, Coughlin had been accused of sexual misconduct by three people, including his former pairs teammate Bridget Namiotka. In May, Namiotka — who skated with Coughlin from 2004 to 2007, when she was between the ages of 14 and 17 — alleged in a Facebook post that Coughlin sexually abused her for two years.
Wagner says she's coming forward now to bring attention to the harmful power dynamics in the sport, where young girls regularly socialize with older male teammates. In the world of elite skating, Wager writes, "thirteen-year-old girls can be on the same international team as 21-year-old men, traveling on the same flights, staying in the same hotels, eating all of their meals together." (Alysa Liu, who won the U.S. figure-skating championship this year, is 13). "This is a pressure-cooker environment that will continue to create uncomfortable, inappropriate and unsafe work places unless something is done about it," Wagner wrote. "I want kids to be able to stay kids in this sport."