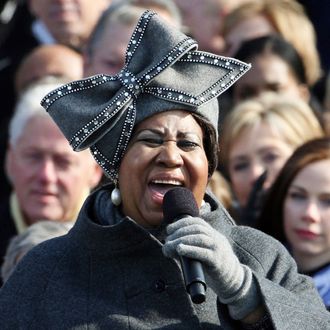 The hat in question
Photo: Ron Edmonds/AP/Shutterstock
After the legendary Queen of Soul, Aretha Franklin, died in 2018 at the age of 76, Michigan courts planned to divide her estate evenly between her sons, Clarence, Edward, Teddy, and Kecalf. Then three handwritten wills surfaced in May of this year, complicating the previously standard inheritance proceedings. Now a fifth name has been added to Franklin's list of claimants: Barack Obama. According to a New York Times report on family battles and court proceedings surrounding the wills, it appears as though former president Obama has thrown his hat into the ring for … a hat. An especially iconic hat. The Times reports:
In court, though, the sons remain apart. Two of them, Edward and Kecalf, attended a recent hearing, where the judge considered whether to allow a distribution of some personal items as keepsakes to the sons but also to people like Barack Obama, who Mr. Bennett said has asked for the elaborate silver bow hat that Franklin wore to his first inauguration.



The hat, a custom-made gray felt pillbox affixed with a massive, Swarovski-studded bow, was one of the most buzzed-about guests at the inauguration after Franklin herself and gained some independent fame and longevity through some extremely 2009 memes. Its place of honor atop Franklin's head while she sang "My Country 'Tis of Thee" at Obama's inauguration imbued it with genuine historic value well beyond that of other iconic hats of the century thus far (Pharrell's, Jacquemus's, Detective Pikachu's, the list goes on). Due to its significance, there were reports that the Smithsonian had requested the hat, but after Franklin's death the organization confirmed it would not include the piece in their collections. If Obama were to win custody of the hat, it would be in line with Franklin's wishes, according to the man behind the topper, Luke Song of Mr. Song Millinery. Song told "Page Six": "She told me she wanted it at the Barack Obama Presidential Library, and I think that is exactly where it should be … [Franklin] loved Obama, I know, and I personally couldn't think of any better place for it."
Groundbreaking on the Obama Presidential Center in Chicago's South Side is slated to happen in late 2020 at the absolute earliest, so until it opens we will have to make do gazing upon other oversize bows, like the replicas that Luke Song sells for over $100. And the high-fashion stylings of Jojo Siwa.