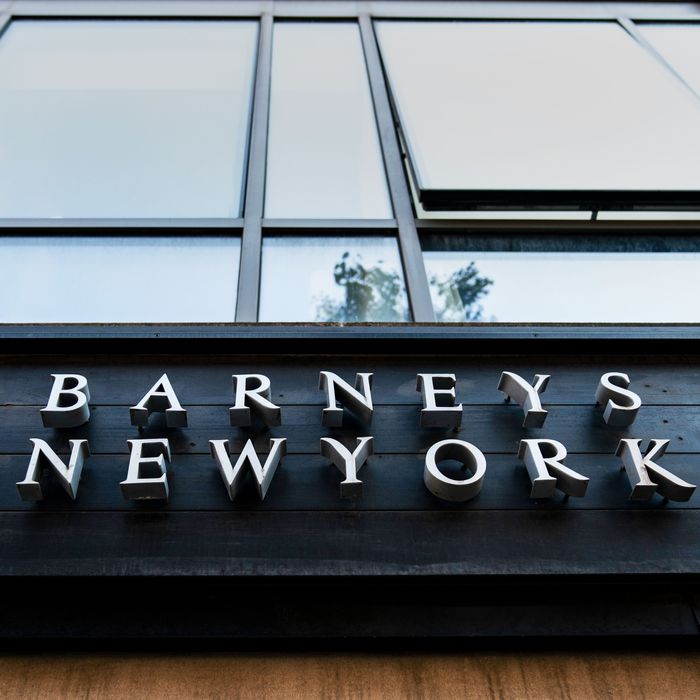 Photo: Drew Angerer/Getty Images
Barneys New York, the luxury fashion chain that brought us acid trip–inspired window displays and always kept their AC on full blast, has filed for chapter 11 bankruptcy.
The Associated Press reported on Tuesday that the franchise, whose bottom line has been badly damaged by the dominion of online shopping and rising real-estate prices, is closing stores in Seattle, Las Vegas, and Chicago in addition to a dozen "concept and warehouse locations." Its stores on New York City's Madison Avenue, in Beverly Hills, San Francisco, and Boston, in addition to select warehouse locations in New York and California, will stay open for now. The company, which was founded in 1923, is reportedly reviewing all of its store leases. Their online presence will also persevere.
The company has reportedly received $75 million in financial backing in order to pay employees and vendors as it awaits a buyer. In its bankruptcy filing Barneys, which is owned by the hedge fund Perry Capital, reportedly listed more than $100 million in debt and $100 million in assets. NBC News reports that this year one of Barneys' landlords doubled the rent at its Madison Avenue store to $30 million a year.
Already this year more retail stores have closed in the U.S. than in all of 2018, according to Coresight Research. A total of 12,000 stores are expected to close in 2019, according to the research group.
The Neiman Marcus group and Nordstrom have also recently reported declining sales, and in January Lord & Taylor sold its flagship Fifth Avenue store to WeWork. In July the Wall Street Journal reported that online retail giant Amazon is considering leasing the space.