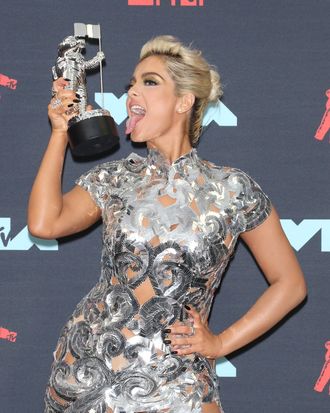 Photo: Jim Spellman/WireImage
The MTV Video Music Awards are usually guaranteed to be a wild and crazy time, but you gotta admit, this year was pretty mild. Everyone seems, for the most part, to be on their best behavior. Where are the scandalous performances? Where is the surprise celebrity couple making their PDA-filled public debut? (Camila Cabello and Shawn Mendes don't count.) Where are the meat dresses? Hello? Is anyone having fun over there?
But there was one person who was Living Their Best Life. One person who was giving me real IDGAF energy. This certain someone was truly enjoying themselves. May I present Bebe Rexha.
Rexha took home the award for Best Dance for her song "Call You Mine," with the Chainsmokers, but she deserves even more accolades for simply having a damn good time.
Case in point:
Was Rexha channeling #BreakTheInternet-era Kim Kardashian with this stance? She should win the award for Best Pose of the Night.
The singer couldn't resist snapping a pic with famed Scientologist John Travolta. I guess I can't blame her. Best Random Selfie, hands down.
It makes sense that she won for Best Dance. Look at this B get down.
If there's anyone I want to party with, it's Bebe Rexha.