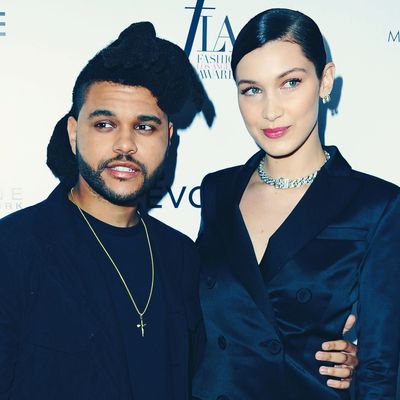 Photo: Jon Kopaloff/FilmMagic
The couple that dines at a restaurant for robots together … doesn't necessarily stay together.
Bella Hadid and the Weeknd (née Abel Tesfaye) have reportedly broken up for the second time. E! News reported the item on Tuesday, citing a source who said incessant "distance" was a big deal breaker. "They are in different places right now, physically and mentally," the source added, helpfully. "Bella is prepping for her Fashion Week commitments and Abel is working on his music and his upcoming acting debut." The source further explains that the Weeknd and Hadid often travel coast to coast but are rarely on the same one, passing each other like ships in the night, private jets in the sky, or a slapstick duo with excellent comedic timing.
Also, "they have been arguing a lot lately."
The source suggested the break could be temporary, saying, "They hope to get back together at one point but for now are focusing on themselves and their projects." Echoing this hopeful sentiment, a source told Entertainment Tonight, "[They] are working through things like normal couples do … the two love one another, have lost one another in the past and want to try and make it work. Right now they are together and working on keeping it that way." So perhaps they haven't even split just yet?
The 22-year-old model and 29-year-old singer's on-again-off-again romance has endured since 2015 when the two were spotted together at Coachella. They broke up for the first time in November 2016 and got back together last year.
With any luck Bella will rebound with a CGI influencer in no time flat.