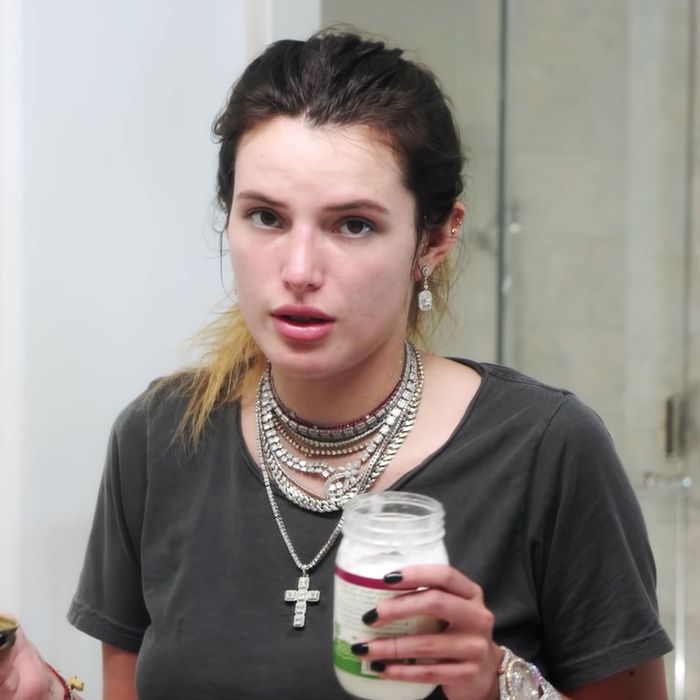 Photo: Harper's BAAZAR/Youtube
Bella Thorne is used to shocking people. But what she's shared lately is harrowing. For the Harper's Bazaar series, #GoToBedWithMe, the budding skin-care entrepreneur (she's allegedly working on a line) washed her face on-camera and internet commenters cannot forget what they saw.
"I think I might have barfed a bit in my mouth. Literally the worst thing ever on the internet," tweeted one person. "I love Bella but this was a dumpster fire omg," says another.
There were a few surprising things in her nighttime skin-care routine (and it's not because she is using zero Glossier), let's go through them all.
1. She wears two diamond watches on one wrist.
Don't her wrists ache? But both watches appear to be set to the same time, so they seem to be serving a purpose. Strange flex, but carry on.
2. She's letting water actually touch her face.
When was the last time you saw a celebrity actually washing their face, for real? She splashes water on her face not just once, but twice, and for longer than five seconds.
3. She makes a homemade face wash.
It's not just a face wash. It's a scrub. Brandishing a little tupperware container, Thorne pulls out a homemade mixture of lemon juice, sugar, and olive oil, a sure-fire combination dermatologists recommend for creating micro-tears and enlarged pores. "I started using it on my new assistant. He just loves it so much. It makes his skin so smooth," she says. Somewhere, cosmetics cop Paula Begoun is shaking and weeping into a muslin cloth.
4. She makes a second homemade face wash.
"Listen to the product," Thorne says, as she whisks together (using a mini!) coconut oil, honey, and cherries into a small bowl. "Cherries are anti-inflammatory and have antioxidants," she says, as she smears the drippy, blood-red mixture to her face. It's a mask? It's the start to Cherry Garcia? It's something.
5. Moisturizing is optional.
After making two beauty "products" completely from scratch, noted minimalist Thorne, her neck dripping with the bling of an extra large cross, says, "I don't do anything [else] extra." Considered over the top would be putting anything on your skin at night that you don't immediately wash off. "I don't use moisturizer or anything."
Like many celebrities in the wellness and beauty space, Thorne is a passionate advocate for "natural" beauty products. Well, don't call Goop, Bella, they'll call you. I think Reddit's Skincare Addiction board is still dry heaving. Watch the whole, very unique video below.
.