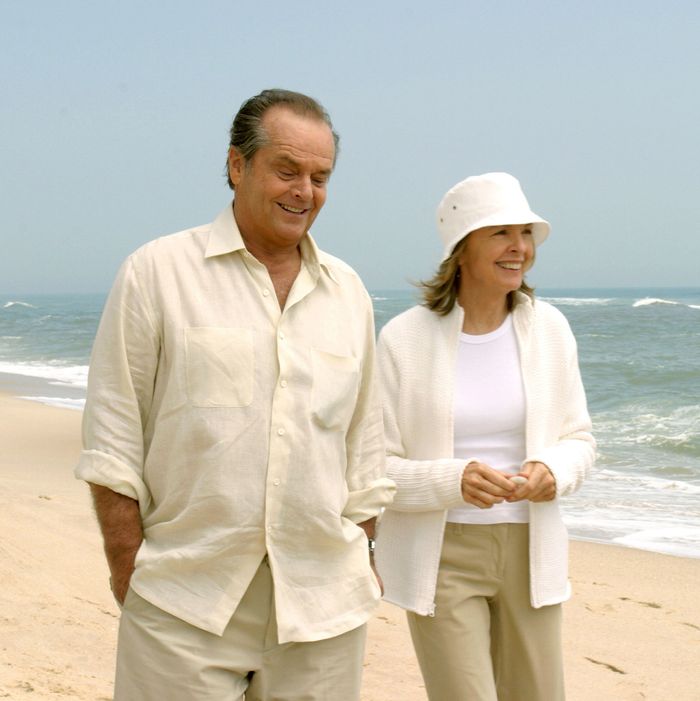 Photo: ©Columbia Pictures/Courtesy Everett Collection
On the long list of summer signifiers — pool floats, Aperol spritzes, straw bags — linen ranks highly as a symbol that you're doing it right. Even if you're a wrinkly mess, a linen outfit can embody the easy-breezy nonchalance of someone perpetually on vacation, the sort of privileged casualness of the one percent. My cousin, who is Filipino, confirmed linen's global status when she used a Tagalog phrase that translates roughly as "rich wrinkles" to describe those who wear the fabric to formal events. Let me say that again: Rich wrinkles!
Of course, you don't have to actually be rich to look like Diane Keaton in Something's Gotta Give. Linen icons like the Barefoot Contessa, who reportedly buys her shirts in bulk from brands like Eileen Fisher, Talbot's, and Land's End, keep the breathable fabric humble. It's basic in every sense of the word. Still, this is 2019, so of course there are direct-to-consumer linen start-ups. Scrolling through Instagram this summer, I was overwhelmed by the number of flax purveyors with one-word names like Toast and Sleeper. Their products seem to appeal to millennials-going-on-75 who value "natural fibers" and want to look like they joined a cult.
With so many options, it's hard to know where to start. What makes one cream-colored pair of linen pants better than another? What flax is the biggest flex? French? Italian? Japanese? To cut through all the noise (and by that I mean soft whisper) we ranked all the status brands, from least to most status-y, below.
1. Uniqlo
Uniqlo is a powerful force but one that all can enjoy. The brand's affordable linen tops and bottoms are a summer staple. What sets them apart, though, is that they don't sacrifice quality for cost. Uniqlo's "premium" linen fabrics are 100 percent natural and from Europe, so you know they're qualité.
2. Everlane
Everlane's linens aren't European, but they are more expensive than Uniqlo's and slightly less mass, more trendy. You could wear an Everlane linen jumpsuit to a party, for example, and people might think you were rich, although there's a good chance someone else will be wearing one too.
3. Alex Crane
Alex Crane is a menswear brand with airy Everlane branding. It seems to target those who summer in the Hamptons or Santa Fe. Its European linens come in friendly millennial colors like lavender and mint green. "Feel breezy" is its motto.
4. Toast
Founded in Wales, Toast advertises a "slower, more thoughtful way of life." It has a Brooklyn-mom-who-shops-at-Bird style ("smock") but with a more affordable price point. You could outfit your entire house in Toast linen, from napkins to bedsheets, if you so chose.
5. Muji
The Muji price point falls in between Uniqlo and Toast, but its products have a traditional Japanese crinkle, cut, and color, which makes them way cooler. Also, not a lot of people know Muji sells clothes — only real heads.
6. Paloma Wool
Sexy is a word not often used in relation to linen, but this young Spanish brand has done the impossible: Think high slits, low-cut tops, and an Eckhaus Latta color palette. With the help of Instagram, it has become an influencer favorite.
7. Jenni Kayne
Jenni Kayne is total California (imagine Eileen Fisher but ten years younger and a micro-influencer). The Jenny Kayne client has a Soho House Malibu membership or a house up in Hudson. She loves to cook in her linen apron and turns the brightness up to 100 on all her Instagram posts.
8. Mara Hoffman
Mara Hoffman used to be known for her graphic prints but has become more akin to Rachel Comey, at least in style (arty), silhouette (sculptural), and demographic (cool). You can pick the brand's puff-sleeve tops and fitted dresses out of a crowd at Rockaway Taco.
9. Black Crane
I know, I know … all these brands are starting to sound the same. Black Crane is one you can find at boutiques like Totokaelo. The designers moved from Tokyo to Los Angeles to launch their line, and their style reflects this. Sources tell me the Olsens wear Black Crane as pajamas, hence the high ranking.
10. Ilana Kohn
Ilana Kohn is also Rachel Comey adjacent but with a much sharper focus. She's still riding the high-waist flare wave, but her jumpsuits are really what have become the ultimate status symbol in Greenpoint.
11. Eileen Fisher
If you're reading this article, I don't need to tell you Eileen Fisher is the OG. Her linen is high-quality but humble. She actually cares about the earth. She's simply the best, period.
12. Brunello Cucinelli
Eileen Fisher is great for every day, but if you want your linen to scream "Italian vacation," Brunello Cucinelli is a classic. Wear it with slip-on espadrilles and enjoy the entire month of August off.
13. Loro Piana
If Brunello Cucinelli works a cushy day job with decent paid leave, Loro Piana owns the company. Better yet, its family owns the company. You think you know what rich fabric feels like, and then you put on this luxury Italian brand. Allora!
Honorable mention: all the other brands named by the linen obsessives I spoke to for this story, including Casey Casey, Coyuchi, CP Shades, Dôen, Eskandar, Flax, Hej Hej, Ichi Antiquities, Ijji, Lauren Manoogian, Maria Cornejo, Miss Molly Eco Lux, Oska, Outlier, Ovate, Par en Par, Pip-Squeak Chapau, Rachel Craven, Samuel Snider, Sleeper, Society Limonata, South Street Linens, and 7115 Szeki.