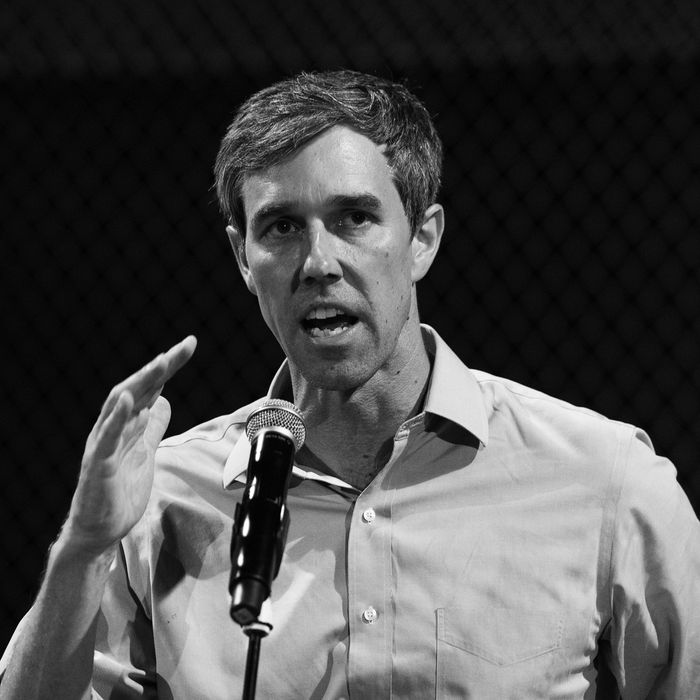 Photo: MARK RALSTON/AFP/Getty Images
One grim product of the mass-shooting age is that American presidential candidates will find themselves responding to at least one such event as it unfolds live on the campaign trail. On Saturday, Beto O'Rourke learned a mass shooting was taking place in his hometown of El Paso just before he was scheduled to appear at a labor-union conference in Las Vegas. Onstage, he was visibly shaken as he recounted calling his wife when he heard the news. "Just a real reminder of what's most important at the end of the day for all of us," he said.
But it was on Sunday, after news broke of another mass shooting in Dayton, Ohio, and after O'Rourke had broken from his fund-raising trip to head home, that he gave a different, unvarnished reaction to reporters. Someone asked him whether Donald Trump's racist, anti-immigrant rhetoric had anything to do with the El Paso tragedy, before which the suspect, now in custody, had published a white-supremacist screed on the website 8chan.
"What do you think? You know the shit he's been saying," O'Rourke said. "He's been calling Mexican immigrants rapists and criminals. I don't know, like, members of the press, what the fuck? Hold on a second. You know, I — it's these questions that you know the answers to. I mean, connect the dots about what he's doing in this country. He's not tolerating racism; he's promoting racism. He's not tolerating violence; he's inciting racism and violence in this country. So, you know, I just — I don't know what kind of question that is."
O'Rourke's off-the-cuff utterance stood out from the reactions of other candidates, who were likely just as genuine but whose responses had more words but somehow less feeling. They used more-familiar turns of phrase — they said we can't tolerate this violence, they said we need background checks, they said they "had no words."
All true, but none cut through like "What the fuck?" "What the fuck?" is the opposite of politicians' canned "thoughts and prayers," even the criticism of which has now become canned.
"What the fuck?" is so effective because it demands our acknowledgment that we know, actually, why this is happening, despite some people asking as if the answer weren't obvious. We know that having a racist, xenophobic, misogynist voice at the top is certainly more than "connected" to violent events in our country and that is has possibly never been more clear than it was this weekend in El Paso and Dayton.
"What the fuck?" is frustrated with the way we talk about these horrors as if they were mystifying. And it is adequately tired. It gestures at the whole gaping maw of millions of guns in America, the ones used in mass shootings, the ones at our militarized border, and the ones that kill black and brown people at much higher rates, which we don't even deign to note with thoughts and prayers. "What the fuck?" is the only appropriate response to going to bed on Saturday with the knowledge of one mass shooting and waking up on Sunday to another.