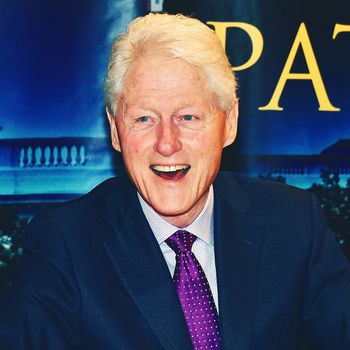 Bill Clinton.
Photo: Slaven Vlasic/Getty Images
On Monday, after "Page Six" reported that a brave DJ had boldly defended "late-night vibes" from the whims of Bill Clinton, late-night-vibe-lovers everywhere celebrated the then-unidentified woman as a hero. But as it turns out, the story is more complicated than it seems.
According to the report, Bill and Hillary Clinton decided to dine out with a truly odd mix of powerful figures over the weekend — we're talking Jon Bon Jovi and D.C. lobbyists alike. The location they landed on: the Maidstone, a hip hotel in East Hampton. While the tabloid doesn't go into detail about the start of the dinner, one can assume there were no major disturbances or issues to report. Sometime around 11 p.m., though, when the table's topic of discussion turned to politics, the volume of the music at the nearby "late-night vibes" event started to irk Bill, according to a witness. So he asked the waitstaff to tell the party's DJ to turn down her music. His bid, per the report, was unsuccessful.
"[Staff members] were told 'no' by the DJ," the witness told the outlet. "The waitstaff was pleading with the DJ to turn down the music, but the DJ wasn't having it."
Turns out, the witness didn't get the full story. In a new report from "Page Six," the DJ — Angelica Morrow, who identifies as a "vibeologist" — "emphatically denies" that she ignored Clinton's request.
"The hotel sound system failed," Morrow clarified to the outlet. "When [the system] was rebooted, the … volume was much louder, unbeknownst to me, in their dining area." And, per the report, Morrow did end up turning down the music.
I guess the real hero in this situation was the sound system?
This post has been updated.