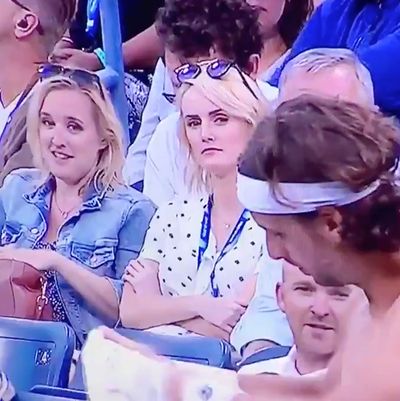 Blonde woman having a "good old fashioned perv."
Photo: @nomatchwindyno/Twitter
From a quick glance at Twitter, one can pretty easily glean who had a good night at the U.S. Open on Monday night: Serena Williams, Roger Federer, and the blonde woman who captured a photo of a tennis player during one of his shirt changes.
While the aforementioned blonde isn't herself competing in the tournament, she appears to be a tennis fan — or at least a fan of the sport's players. During last night's match between Spanish player Feliciano López and American player Taylor Fritz, the unidentified woman was lucky to be seated very close to the court, which gave her the perfect vantage point to snap a cell-phone pic of Lopez with his shirt off during his four-set first-round win. While she was clearly trying to sneak the photo, because of her proximity to the court, she herself was caught on camera. And, naturally, a clip of her in this very moment made its way onto social media.
"Blonde woman, top left," Twitter user @nomatchwindyno tweeted alongside the video. "She is all of us."
As of Tuesday morning, the video has been played 1 million times, attracting notice from some professional tennis players and news outlets around the world picked up the clip. The Daily Telegraph described her as "a female … busted having good old fashioned perv."
Or maybe she was simply enjoying the game to the fullest, invested in the intricacies of the sport even between sets! I stand in solidarity with the blonde woman, amateur photographer, and seemingly ardent tennis fan.