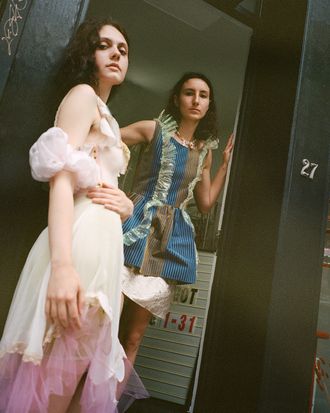 When Barneys announced that it was filing for bankruptcy earlier this summer, news of the department store's demise read like a eulogy for cool. The Times wrote that it "once defined" the aesthetic of a certain "Manhattan creative" class. It was where you would go to discover new designers, to see and be seen. There are many reasons why Barneys as we know it, and the New York it once stood for, are things of the past, and that's a bummer. But there is some cool left in New York. Maybe it's just not cool to call it that.
If you want to buy something wonderfully weird and one of a kind, swing by Café Forgot, a pop-up shop currently taking residence at Larrie on the Lower East Side. (Manhattan creatives might refer to the area as "Dimes Square.") Founded in 2017 by New York natives Vita Haas, 26, and Lucy Weisner, 24, the roaming space has developed a reputation for carrying the work of local young designers and artists who (mostly) aren't showing at fashion week (yet) — or anywhere else.
On a recent weekday, I walked in to find jeans tie-dyed with painterly flair; tank tops printed with scenes from The O.C.; and bag hand-beaded in the pattern of a laptop screensaver landscape. The bag's designer, Marland Backus, hung around the shop wearing low-rise jeans and a bedazzled belt. Friends of Haas and Weisner stopped by to try things on. One girl put on a pair of leopard-print velour Auto Body pants and wondered if she could get away with wearing them to her day job. Haas asked if she could take a photo for Instagram, which she and Weisner do anytime someone visits.
"We want to provide a space for people to have fun and experiment; to run into their friends and play dress up," said Haas.
One might describe the Café Forgot aesthetic as early-2000s meets Renaissance cosplay. Everything is very arts-and-crafts. You wonder how a pastel-colored corset, for example, might fair at the dry cleaner. What about pants with a clear windowpane exposing the wearer's butt cheek, curtains included?
The name Café Forgot was inspired by a quirky nail-polish color. At first, Haas and Weisner feared people would come in asking for coffee, but the communal feeling of a café combined with the fleeting nature of a pop-up actually seems fitting. There's also a naïve sense of nostalgia emanating from the space and its contents.
"I really like the old-fashioned, romantic idea of a shop," said Haas, who has a background in retail. Weisner, meanwhile, has worked in galleries. Together, they've combined the spirit and function of the two. They'll host opening and closing parties, for example, and are experimenting with programming, with a "punk show" happening on Sunday, August 25.
Funnily enough, the space has become something like the "fashion club" Haas founded as a high-school senior, when everyone else was trying to find clever stunts to get into college. Weisner was a member, along with a handful of future Café Forgot collaborators, like Backus. "I thought Vita and Marland were the coolest people in the school," recalled Weisner, who was a grade below at Packer in Brooklyn.
"But, like, we weren't mainstream," Haas rebutted.
Weisner agreed. "Yeah, you weren't mainstream cool, but you were really nice."
"Thanks!" Haas said with a laugh.
Café Forgot is open daily through August 31 at 27 Orchard from 12–7 p.m.