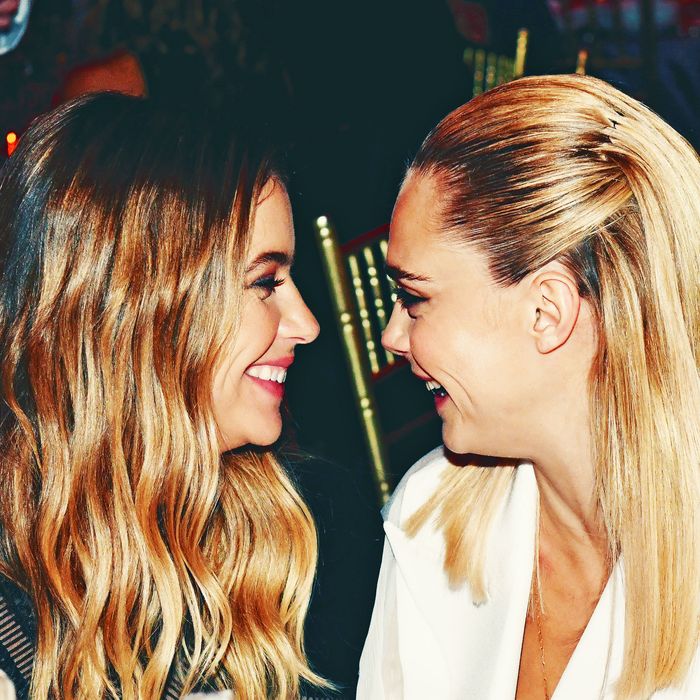 Ashley Benson and Cara Delevingne.
Photo: Craig Barritt/Getty Images for The Trevor Project
Over the weekend, The Sun "broke" the "news" that Cara Delevingne and Ashley Benson has secretly wed in Las Vegas — a report that seemed believable, given that rumors that the couple is engaged have been swirling for at least a month now. But apparently, the report wasn't wholly accurate. While the couple did have a ceremony, it reportedly wasn't one that made them legally wife and wife.
To The Sun's credit, the tabloid wasn't totally off: The report stated that the couple had a ceremony in front of an Elvis impersonator at the Little Vegas Chapel in Las Vegas earlier this year, all of which appears to be true. It just wasn't a wedding ceremony, a source told E! News — instead, it was something called a "friendship ceremony," which sounds fake. But … it's not. According to the Chapel, which advertises these "famous" ceremonies on its website, they're for people who are "not ready to tie the knot, but want to do something special and exciting while in Las Vegas." O … kay.
Whatever happened during that ceremony, they were gleeful as hell during it, according to the Chapel's owner.
"They were sure about what they are doing and they were sure about what they mean to each other," Michael Kelly told the Sun. "They were clearly devoted to each other and they had the biggest smiles on their faces. You could see that they were serious about what they were doing but having the most fun. They wanted it simple, quiet and easy."
Since The Sun's report published, Delevingne and Benson have remained silent on the gossip, per usual. Just about a month ago, though, when the couples' matching rings first sparked engagement rumors, Benson's mom posted an Instagram that seemed to address the speculation. "How easy it is for so many of us today to be undoubtedly full of information yet fully deprived of accurate information," the photo reads.
Despite the most recent report from E!, I'm still not fully convinced that the girlfriends aren't secretly wives. The matching rings, their tattoos that are seemingly inspired by the other, their $385 Master Series Obedience Extreme Sex Bench with Restraint Straps — come on!!!