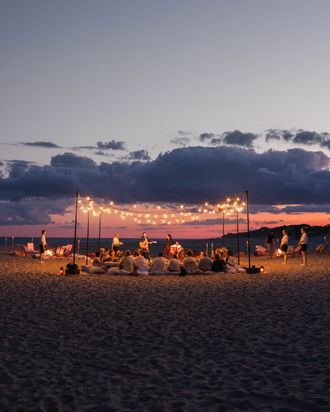 Photo: Ryan Miller for Saks Fifth Avenue
The fall weather hit on the last day of Saks's three-day-long end-of-summer party co-hosted with Bumble BFF. Cashmere shawls were passed out to guests at the clambake on the beach, and many huddled near the bonfire to keep warm and, more importantly, eat s'mores. The graham crackers were branded with the Saks by the Sea logo — really, the attention to detail was astounding. One last blowout before the back-to-school mind-set starts, right?
That's certainly how it felt with a mix of events from meditation with Happy Not Perfect to yoga classes with Hilaria Baldwin (who, for the record, can do a headstand in high heels). Get re-centered, get focused, and meet some new friends. The clambake was co-hosted by Erin and Sara Foster, actors, social media personalities, and creative directors for Bumble and, by extension, Bumble BFF. The Foster sisters themselves made new friends on the trip (documented on Instagram Stories, of course) with America's Next Top Model winner Dani Evans and model Flaviana Matata. No, they didn't meet on the app, but there are worse ways to make friends than while trying to figure out the easiest way to crack open a lobster claw.