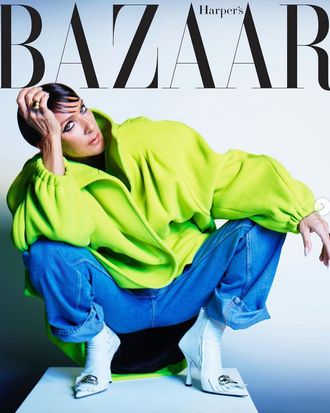 Every night in my dreams, I see bowl cut; I feel bowl cut.
Photo: celinedion/Instagram
Since before 2019 even began, the Cut has been advocating for you to do the damn thing you've quietly considered before every haircut appointment you've ever had and just get bangs already. Now, I would like to kick the peer pressure up a notch and encourage you, strongly, to get bangs that go all the way around your head in an unbroken line. "Well, but wait a minute," I hear you wondering aloud. "Isn't that more or less a bowl cut you're describing?" In fact, it is. Perhaps bowl cuts have been ruined for you by kindergarten picture days past, or by Timothée Chalamet's Shakespearean take on the timeless style. But please, allow Céline Dion to make the case.
In an Instagram post on Thursday, Dion shared a preview of the Harper's Bazaar September issue, which celebrates "Icons" who "have shifted perceptions by resisting the established, avoiding the accepted, and breaking every rule they can." Dion has already given us so much — "My Heart Will Go On," eccentric denim, a bedazzled catsuit — and for this photo shoot, she gave us bowl cut, but made it fashion. (Or, the stylist did.) Some have called the style a pixie cut, but a pixie cut implies heavy layering, with hair cropped close on the sides and left longer on top. Scroll through all of Dion's pics: What we have here is a dark bob of uniform length, angled slightly up as it crests over her forehead, presumably so that she can see. What we have here is a bowl cut.
Unfortunately, there's no word yet on whether or not Dion wore her real hair for this photo shoot. But 360-degree bangs would be a logical next step for a woman who lives every week like it's couture week, and I for one hope her bowl cut will go on and on.