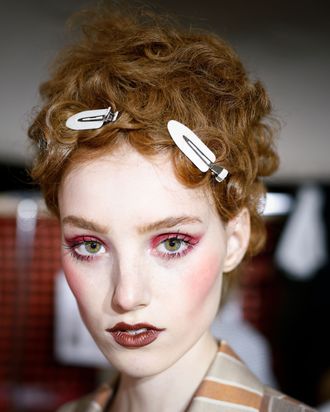 Will this model remove her creaseless clips? Probably not.
Photo: Lorenzo Palizzolo/Getty Images
The summer of sticking stuff in your hair has come to a head, pun intended, I guess. There are so many different kinds of clips to clip onto your hair, and we've run through all the ones that are intentionally decorative at record speed. Now there's only one species of hair clip left to conquer, and it was never meant to see the light of day.
No-crease clips and duckbill clips would rarely, if ever, emerge from the depths of the backstage sets of runway shows and fashion shoots. They were simply meant to keep hair out of the face while makeup things were going down and then make sure said hair looked good naked and accessory free when the time came. But now they're getting their time in the spotlight of well-lit bathroom selfies and naturally sunlit dewy-skin selfies far and wide. There were even ones specially made in Glossier pink with a Glossier G to show off! In public!
Whether you want to channel your inner Solange, pregame New York Fashion Week by pretending you're being worked on backstage, or just need even more things to stick in your hair, here are 11 ways to start wearing getting-ready clips after you're completely done getting ready.
If you're going swimming later but want to look cute now
If you love a monochrome moment
If headbands give you headaches
If it's kind of windy outside
If it's kind of windy outside but in a good way
If you love a good side part
If you're still growing out those bangs
If you like your bangs just the way they are
If you want your messy bun to feel more at home
If you've thought about wearing those Ariana Grande bunny ears but can't commit
And if having two things in your hair never seems like enough things in your hair