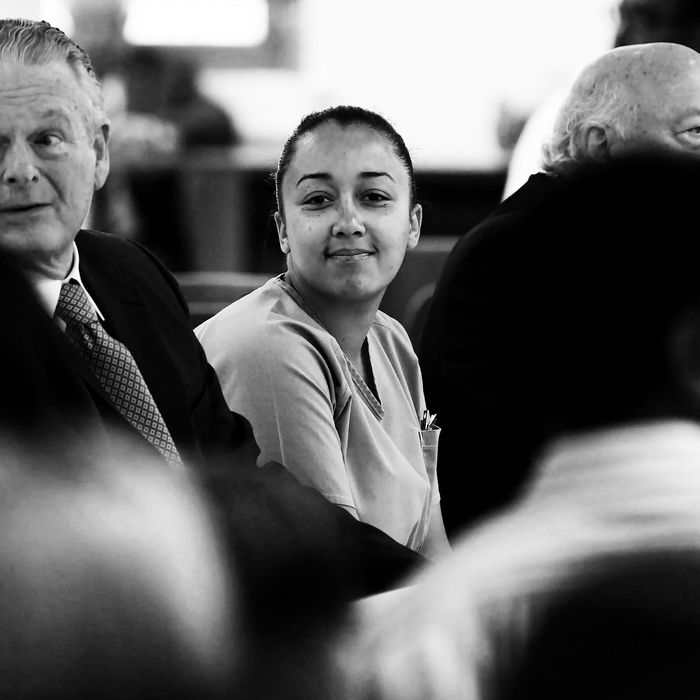 Photo: Lacy Atkins/Shutterstock
31-year-old Cyntoia Brown walked free early this morning from the Tennessee Prison for Women, released on parole exactly 15 years to the day after she was arrested in 2004. Brown was only 16 when she admitted to killing a man who had paid her for sex because she was afraid of him. A jury sentenced her to life in prison. Governor Bill Haslam commuted her life sentence in January.
Brown's case went viral in 2017 when the details of her arrest and sentencing became widely known. Brown had been living with a pimp who she said was abusive and forced her to pick up sex work, including on the night she met 43-year-old Johnny Allen. She claims Allen made her fear for her life before she shot him with a gun she kept in her purse.
Celebrities like Rihanna, Rick Ross, and Kim Kardashian West began calling for Brown's release under the #FreeCyntoiaBrown hashtag, after activists worked for years to push for clemency. On January 7, Haslam granted Brown a full commutation with ten years of supervised parole, in a huge victory for Brown and the movement behind her. (However, the terms of the parole have been criticized by groups like the ACLU for being excessive.)
Brown will be heavily supervised by the Tennessee Department of Corrections in spite of her freedom. She has reportedly worked on a plan with officials including "an updated risk/needs assessment, placement in the transition center and continuing her current course of study through the Lipscomb University LIFE Program," per local Nashville news. Other requirements for her parole are "compliance with her approved release plan while maintaining employment or educational enrollment, regular counseling sessions and a regular commitment to community service." Brown will be released from parole on August 7, 2029.
Brown earned her GED in prison and reportedly got her bachelor's degree in May 2019. When news of Brown's commutation was released, she said in a statement that she hoped she would use her freedom to "help other young girls," and thanked some of her professors in prison for "opening up a whole new world for me."
This article has been updated with more information.