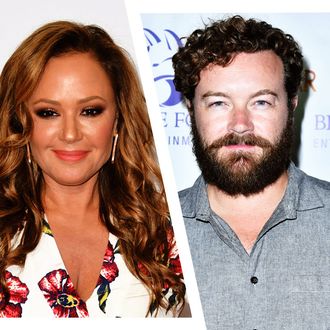 Two and a half years after being filmed (and subsequently held in TV purgatory to potentially aid an investigation), the finale of Leah Remini's Scientology series, Scientology and the Aftermath, aired last night on A&E. Half of the finale was dedicated to two women who accused Danny Masterson, a noted celebrity Scientologist, of raping and emotionally abusing them throughout their respective relationships. Chrissie Bixler, one of the four women currently suing Masterson and the Church of Scientology, claimed the actor frequently assaulted her during their five-year romance, which included one instance of drugging a drink.
"Last thing I remember is getting up from the restaurant to go home. Complete blackout. The next day when I woke up the back of my head hurt, and I thought I'd fallen. I thought I was poisoned. I didn't know where I was," Bixler alleged. "He was downstairs sitting at his desk, and I went downstairs and asked what happened. He just kind of chuckled. I said, 'I'm in a lot of pain.' I was ripped. I was injured. He started laughing. He said 'Oh, I had sex with you last night.' I said, 'Was I unconscious?' He said, 'Yeah.'" Bixler, a Scientologist at the time, says she told a number of female church officers about the experience but was met with no sympathy and no actions were taken. "My job as his girlfriend was to give myself to him whenever he wanted," she added. "I was to lay there and take it."
A second woman involved in the lawsuit, Marie Bobette Riales, also claimed Masterson had a pattern of drugging her drinks and having sex with her while she was unconscious. "This wasn't just a one-night stand or meet-at-a-bar-type thing. I knew that there was something wrong in our relationship itself," Riales said, adding that Bixler's courage is what encouraged her to come forward. "Never once did it occur to me that he was doing this to other girls." Masterson has strongly denied all of the women's "ridiculous" claims.
While this episode concluded Scientology and the Aftermath's award-winning run, Remini implored viewers — especially those with any ties to the church — to realize the full extent of its harm. "Scientology likes to pretend that it's just like every other religion and should be respected like any other religion," Remini explained. "And yet it's the only business on the face of the planet that has never done anything wrong, never admitted to any wrongdoing in its history."