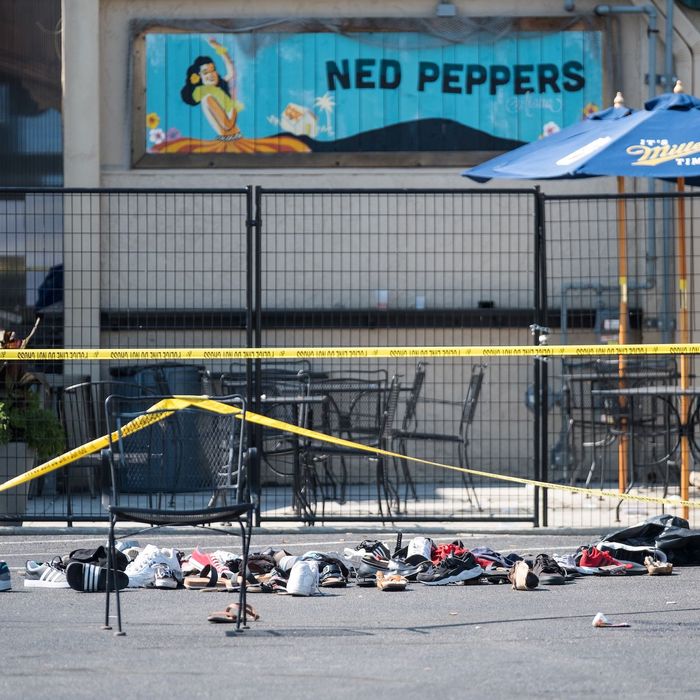 Photo: MEGAN JELINGER/AFP/Getty Images
Police have identified 24-year-old Connor Betts as the gunman in the massacre in downtown Dayton, Ohio, which occurred in the early hours of Sunday morning. Betts had opened fire outside the bar Ned Peppers, killing nine people and injuring 27. Among those slain was his 22-year-old younger sibling, who went by Jordan Betts, according to reporting from Splinter.
The other victims include three women and five men who ranged in age from 25 to 57. According to CNN, they have been identified as Lois L. Oglesby, Saeed Saleh, Derrick R. Fudge, Logan M. Turner, Nicholas P. Cumer, Thomas J. McNichols, Beatrice N. Warren-Curtis, and Monica E. Brickhouse.
Betts had been wearing body armor when he carried out the attack, firing with an assault rifle for less than a minute before police shot and killed him. "I really want to — think about that minute. The shooter was able to kill nine people and injure 26 in less than a minute," Mayor Nan Whaley said.
CNN reports that during a search of Betts's home, where he lived with his family, police found writings that showed he had an interest in killing people, but they say that a motive for Saturday's massacre currently remains unclear. Several of Betts's former classmates told media outlets that he had a history of making violent, misogynistic threats toward women. One former classmate, who ended up reporting Betts to the police for the threats he made, told the Dayton Daily News that Betts "once said he fantasized about tying her up and slitting her throat." Other students recall that Betts made a "hit list" that was separated by gender: There was a "kill list" for boys and a "rape list" for girls. (When he was a sophomore in high school, Betts was suspended for writing his "hit list" on a bathroom wall, the former principal told the Daily News.)
As of now, investigators have not determined whether Betts meant to kill his sibling. Someone who attended high school with the two told the New York Times that they always seemed to get along: "From what I knew, they were close," the former classmate said, adding that Jordan seemed to have "great affection for [their] brother."
This post has been updated with additional reporting.