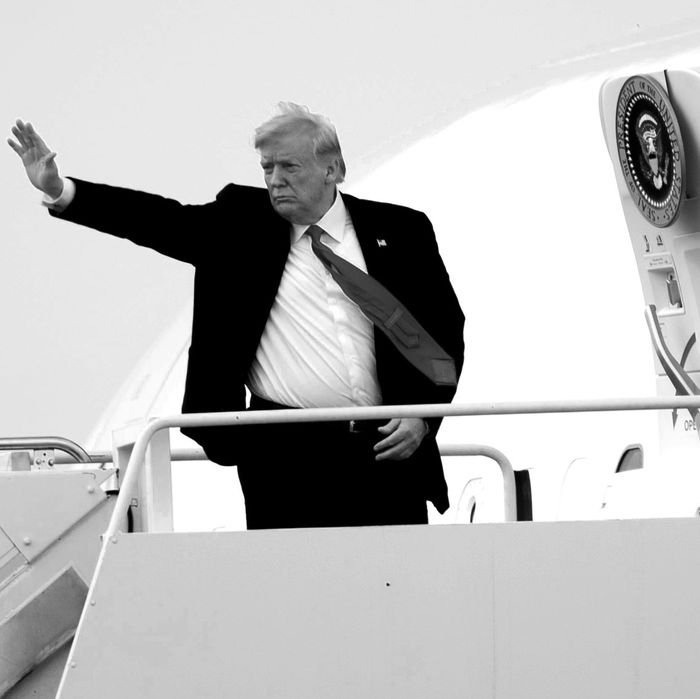 Photo: SAUL LOEB/AFP/Getty Images
After last week's protests over Equinox and SoulCycle owner Stephen Ross's Hamptons fundraiser for Donald Trump, how did Trump actually fare out East? The answer seems to be very well, despite how many people gave up their access to eucalyptus towels and chickpea pasta over the weekend. The president dined on steak, hung out with Rudy Giuliani, did impressions of Japanese and Korean accents, talked about fake news, and raked in $12 million.
Ross's fundraiser was only one of two Friday events in the Hamptons for rich people to knock back a few shrimp cocktails and hobnob with the president. Despite heading companies heavily invested in liberal, urban-dwelling, millennial-friendly brands like The Momofuku Group, the aforementioned SoulCycle and Equinox, and Lola organic tampons, Ross hosted Trump at his Southhampton home for $100,000 a-head ($250,000 for access to lunch, a photo, and a "roundtable" discussion). In response to the hubbub over his participation last week, Ross released a statement that, while he agrees with Trump on "some issues, we strongly disagree on many others."
Among those invited to Ross's party — where we assume he gave Trump a vigorous dressing-down on those topics on which they disagree — were the two adult heirs to the Gristedes grocery store chain; an Estée Lauder heir; and Brock Pierce, a former Might Ducks child actor with a cryptocurrency empire. But that 60-person event was small truffled potatoes compared to the next stop on Trump's beach day, at the home of real estate developer Joe Farrell.
Farrell's Bridgehampton mansion, called "The Sandcastle," was the site of a 500-person tented event hosted by Donald Trump Jr. and his girlfriend Kimberly Guilfoyle. Attendees included Bill O'Reilly, Geraldo Rivera, Lindsey Graham, New York Representative Lee Zeldin, Steve Mnuchin, and Rudy Giuliani. Per the Hollywood Reporter, "guests dined on a buffet lunch of sirloin steak, shrimp with lemon chili and charred broccoli," before Trump gave a 30-minute speech. During his remarks, Trump reportedly quipped that he loves "coming to the Hamptons, I know the Hamptons well, everyone here votes for me but they won't admit it."
Perhaps they won't admit it because of his tendency to do things like perform mocking impressions of people from Asian countries, and say things like "big fat juicy war." According to the New York Post, Trump described receiving a "beautiful letter" from his friend Kim Jong-un (with whom Trump's diplomacy has helped us avoid said "big fat juicy war"), then mimicked the accent of the South Korean leader Moon Jae-in. He also put on a mimicked accent of Japanese prime minister Shinzo Abe to discuss their conversations on trade tariffs, and his bizarre obsession with Abe's father, who was a kamikaze pilot. "Imagine they get in a plane with a half a tank of gas and fly into steel ships just for the love of their country!" he said, like a crazy person.
Despite all that, Trump raised $2 million more than he expected, further evidence of the elite's unique ability to stuff their ears with money when they need to tune someone out.