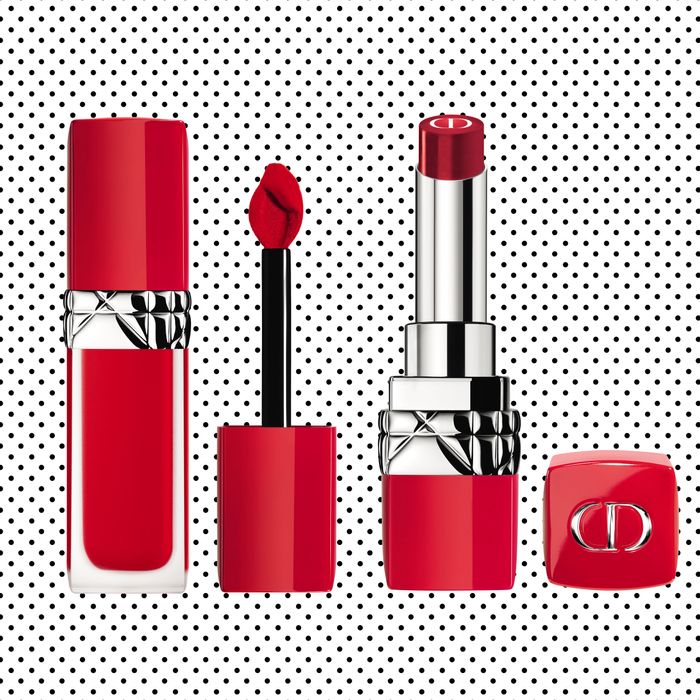 Dior Rouge Dior Ultra Care Liquid and Dior Rouge Dior Ultra Care.
Photo: Courtesy retailers.
Dior just launched two new Dior Rouge Dior lip products, and lips are going to love them because both are infused with everyone's favorite thing, skin care.
First, there's Rouge Dior Ultra Care, which comes in a solid stick for swiping, and 21 shades with a luminous, pearly-matte finish. Each features a white "CD" (for Christian Dior apparently, not compact disc) in the middle of the tube, which is where all the skin-care ingredients are coming from. For this formula, that's 100 percent natural-origin camelina oil, a flower oil rich in nourishing essential fatty acids, plus a derivative of jojoba oil extract that helps strengthen barrier function, so your lips hold on to more hydration like you want your face to.
Then there's the liquid version, Rouge Dior Ultra Care Liquid, which comes in a convenient tube the size and shape of a regular stick lipstick and 25 shades with a "petal-soft" matte finish. Going with the theme, Ultra Care Liquid features a new petal-shaped applicator, which provides a more precise application and a "soft sensation." Skin-care-wise, the formula includes the same camelina oil, along with sweet almond oil and shea butter for more moisture and more (or ultra) care.
The new lipstick is not only inspired by flowers (hence the flower oil, the petal-shaped brush, petal finish, and bloom-inspired shades), but they also come with a campaign featuring Natalie Portman in a very red and very cozy-looking fall sweater, which is a fun bonus. Both products are already available now at Dior.com and will hit stores in September.
If you buy something through our links, New York may earn an affiliate commission.