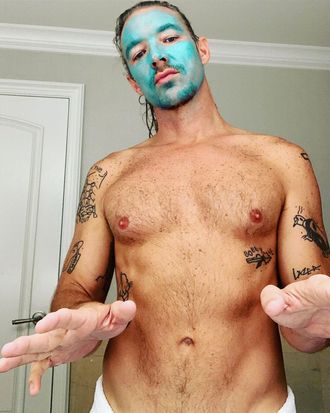 Diplo.
Photo: diplo/Instagram
Although my bathroom cabinet is never without hyaluronic acid, vitamin C, and the like, I must admit that my knowledge of skin care, while adequate for my 26-year-old body, could be described as shallow. And yet, I know for a fact that its deeper than Diplo's. I know this because the DJ recently divulged in a shirtless thirst trap on Instagram that he had just discovered the concept of taking care of your face, which is why I would like to: (1) applaud him for making such a brave confession, and (2) allow me to teach him about skin care.
While many surrounding details are yet unclear, Diplo seems to have lived through something truly transformative on Saturday, sparking the realization that he could die any day. In response to such a life-altering experience, he did what any panicked person would do: announced on Instagram that he is starting up a new skin-care routine. (Also, explicitly asked interested women to fuck him ASAP.)
"Yesterday I learned that life is fragile so I started a skin care routine," he captioned a photo of him wearing a blue face mask. "also if your thinking of dating me or even a one night stand you should hit me up soon cause you never know I could be eaten by an alligator or something on one of my wierd tours."
Despite just learning about the importance of caring for your skin over the weekend, Diplo has clearly already had some guidance. In response to a comment from Pete Wentz of Fall Out Boy — "Which mask is that tho" — Diplo replied, "ola henriksen I can't spell," by which he meant Ole Henriksen's Cold Plunge Pore Mask. (Great reviews on Sephora — Diplo, I'm impressed.)
But I have a few remaining questions for him about his new regime: How often is he exfoliating? Does he use toner? How heavy are his moisturizers? Does he know about … the Retinoid uglies?
While I by no means want to overwhelm him, I just need him to know that there's a whole lot of information about skin care out there, and I only want him to get the best (from me). If he wants to die with admirably dewy skin on one of his "wierd tours," whatever those might entail, it is imperative that he contact me immediately.