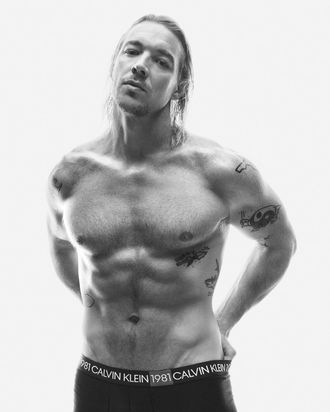 Photo: Courtesy of Calvin Klein
Today marks the arrival of a new Calvin Klein underwear campaign. And to no one's surprise, it's titillating.
The campaign consists of traditional black-and-white posed shots of celebrities like Diplo and Bella Hadid, shot by Daniel Jackson, contrasted against stripped-down images of the stars around the house or at the gym. The idea is to symbolize their private and public personas, but an added bonus is that we now know these sexy people can be sexy in black and white or color. It also features the newest Calvin Klein underwear collection, which is replete with neon bands, "1981 bold" bands, and Liquid Touch– tailored bras for women.
But back to the shots, because we want everyone in this campaign to run us over repeatedly and then make us waffles.
Let's dive in, shall we?
Our friend Diplo, who has recently found skin care, is upside down!
And Bella Hadid taking off her neon-branded pants in a posture that looks detrimental to her vagus nerve!
There's Odell Beckham Jr taking a selfie while holding his … Calvins.
Jacob Elordi smiles while taking off his pants. Something you've always wanted to see but never thought you would.
And here's Naomi Campbell, looking like she's about to shove me into my high-school locker.
See the rest of the campaign below.