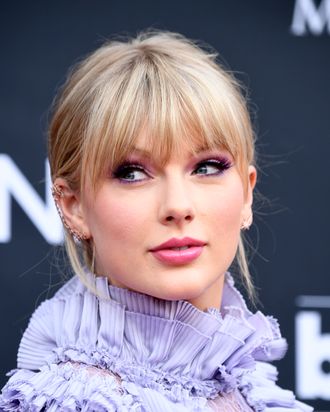 Photo: Frazer Harrison/Getty Images
You know when you're drunk at a bar and your favorite song comes on, and you suddenly feel compelled to jump up and perform a dramatic, interpretive dance? That happened to Taylor Swift last night, but it was to her own song, which makes it even more entertaining.
On Saturday night, Swift threw a party at Beauty & Essex Los Angeles celebrating her ten MTV Video Music Awards nominations, which include Video of the Year and Song of the Year. Some of the stars who appeared in her music video for "You Need to Calm Down" were in attendance, such as Laverne Cox, Hayley Kiyoko, Chester Lockhart, and Justin Mikita.
RuPaul's Drag Race season 11 contestant A'keria Davenport posted a video on Instagram that featured Swift dancing to the song, alongside Kiyoko, Cox, and Lockhart. In it, Swift is seen wearing a sparkly, rainbow dress (her uniform as of late) and proceeds to mess up her hair, pantomime a tequila shot, and do a little bit of headbanging. Get it, Taylor.
While Swift's animated dancing wasn't confirmed to be the result of a few drinks, that didn't stop "Drunk Taylor" from becoming a hit on Twitter.
One Twitter user joked that Swift's dance party was a reaction to Kid Rock's gross, sexist tweet about her recent decision to be more vocal about her politics. "Taylor Swift wants to be a democrat because she wants to be in movies….period. And it looks like she will suck the door knob off Hollyweird to get there. Oldest move in the book. Good luck girl," he tweeted.
In another video, you can hear someone who sounds like Swift saying, "I fucking love Cardi B."
Taylor Swift is set to perform at the VMAs on August 26, three days after the release of her upcoming album, Lover. It will be the first time the singer has performed at the awards ceremony in four years.