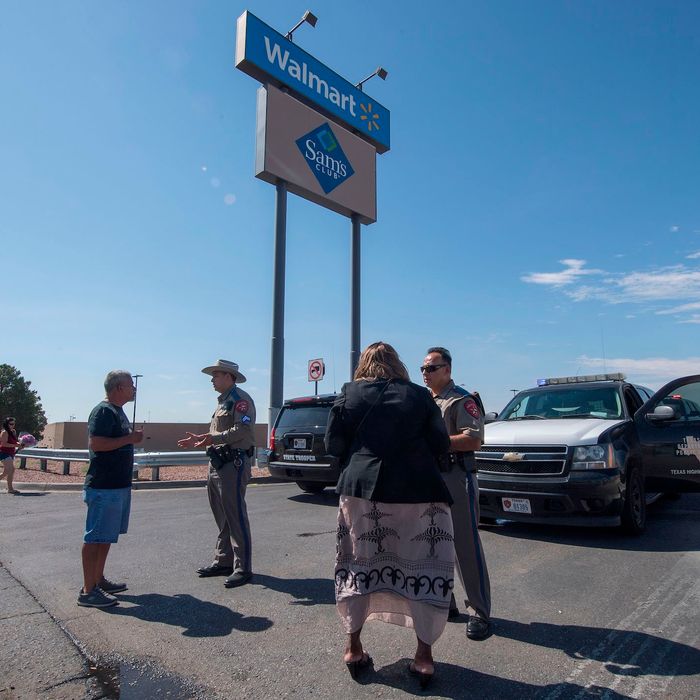 Photo: MARK RALSTON/AFP/Getty Images
Among the 22 victims of Saturday's horrific mass shooting at an El Paso Walmart was Jordan Anchondo, a 25-year-old mother who had just given birth to a son two months prior. Anchondo is believed to have been killed while trying to shield her baby from the gunfire. Her husband, Andre, who was 24, was also killed in the shooting. The infant survived and treated for broken fingers.
Andre's brother Tito told the Washington Post that before they went to the shopping center, Jordan and Andre had dropped off their oldest daughter at cheerleading practice. They planned to shop for decorations for her birthday party as well as school supplies. "From the baby's injuries, they said that more than likely my sister was trying to shield him," Jordan's sister, Leta Jamrowski, told the Associated Press. "So when she got shot she was holding him and she fell on him, so that's why he broke some of his bones. So he pretty much lived because she gave her life." Tito and other members of their family believe Andre was killed trying to protect Jordan and their son.
Tito said that the couple had celebrated their first wedding anniversary just days before they were killed. And in the past year, his brother had started his own business and built a house for his family. "She was his support system," Tito said. "When he met Jordan, it gave him more reason to get on track with his life. He got his life in order."
Benjamin Thompson, a friend of Andre's, told BuzzFeed News that Andre was a devoted and loving father. "I remember the day he told me he was expecting his boy. There was no happier moment in his life and you could tell. What happened to their new beautiful family is devastating."
Details about the other victims from gunman Patrick Crusius's massacre are slowly coming out. Arturo Benavides, 67, was confirmed to be among those who were killed. Benavides was an Army veteran and a longtime bus driver in the El Paso community. Another victim, 78-year-old Juan Valazquez, died Monday morning, as did an unnamed elderly woman. Mexican president Andrés Manuel López Obrador also confirmed that three unnamed Mexican nationals were killed.
Crusius, who drove more than 600 miles from his home near Dallas to carry out his attack in El Paso, is believed to be the author behind a 2,300-word racist manifesto shared on the online message board 8chan. According to CNN, the shooting is being treated as a case of domestic terrorism, and Crusius may be facing additional hate-crime charges. Prosecutors will be seeking the death penalty against the 21-year-old.
This post has been updated with additional reporting.