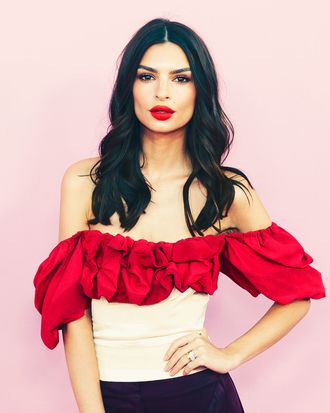 Emily Ratajkowski
Photo: Pacific Press/LightRocket via Getty Images
Say what you will about Emily Ratajkowski, but as a model she's willing to go there for the shot. And by "go there," we mean writhe around in pasta or grow out her armpit hair.
She did the latter for the September issue of Harper's Bazaar, in a photo that accompanies an essay she wrote about "the importance of women's right to choose (how she dresses, what she posts, if she decides to shave or not)."
Considering Ratajkowski generally presents as 21st-century cis/het sexuality incarnate, it's a striking photo and perfectly in line with her view of her Instagram as a "sexy feminist magazine."
Predictably, there are men in her Instagram comments saying they'll unfollow her, that it's unhygienic to have armpit hair (which, what?), and that they no longer find her attractive.
There's also a conspiracy that the hair is fake — an armpit merkin, if you will. Which is intriguing! Based on my detective work (looking at a lot of paparazzi photos in which her armpits have been suspiciously covered), I think it's real, but that it's likely gone by now. Emrata posted a photo of her arm up six days ago, clean-shaven. Do your thing, Emily, whatever it might be.