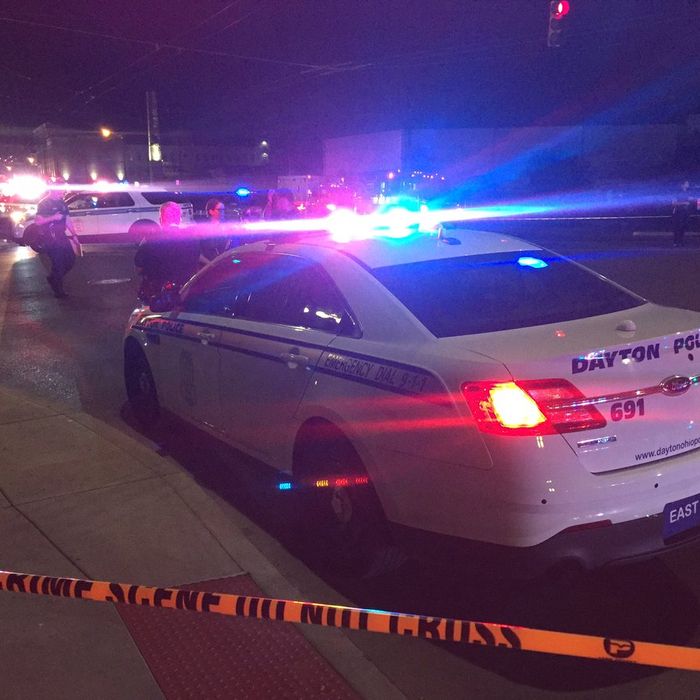 Nine people were killed and 26 injured after a gunman opened fire in Dayton, Ohio's nightlife district early morning Sunday. It was the second deadly mass shooting in America in less than a day, and third in less than a week.
Dayton Police officials announced that an as of yet unidentified gunman opened fire on bystanders just after 1 a.m. outside of Ned Peppers Bar in the city's historic and popular Oregon District. The gunman was wearing body armor and came armed with a .223-caliber "long gun," high capacity magazines, and extra ammunition. Police officers already present in the area immediately responded to the attack and fired on the shooter, killing him at the entrance to the bar. The attack seems to have lasted only about a minute, but that was more than enough time for the well-armed gunman to exact a heavy toll.
Police officials initially said that 16 people had been injured, but Dayton Mayor Nan Whaley later reported that a total of 26 people sustained injuries in the attack and a few victims remained in critical condition as of daybreak Sunday.
Police confirmed witness accounts the gunman opened fire on people gathered outside the bar, then attempted to make his way into the venue. Videos recorded and shared on social media by bystanders showed multiple bodies on the ground in the aftermath. Dozens of rapid-fire shots could be heard in one video recorded a short distance away during the assault.
The shooter's motive is not yet clear, and police said their investigation is ongoing with assistance from the FBI. (The ATF was also on the scene after the attack.)
According to unconfirmed witness accounts and photographs, the shooter appears to have been a young white man wearing a black hooded sweatshirt. One witness described the shooter as a "white man in all black with an [AR-15-style assault rifle]" who "just opened fire for 30 seconds straight, killing or injuring 10-20 people."
The rampage came roughly half a day after a 21-year-old white gunman killed 20 people and injured another 26 at a Walmart in the border city of El Paso, Texas in what appears to have been an anti-immigrant hate crime. Both attacks are still under investigation and it is not clear if the two events may be linked in any way — other than being horrifying back-to-back examples of the same unchecked gun-violence epidemic, less than a week after three people were killed and 13 injured at another mass shooting at a food festival in California.
This is a developing news story and this post will be continuously updated with new information as it becomes available.