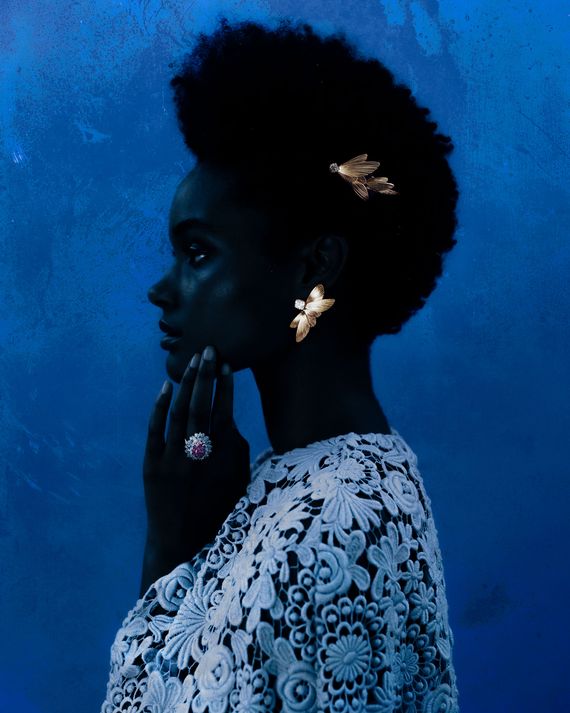 2019 Tiffany Blue Book Collection
hair clip and earrings, at 727 Fifth Avenue;
Harry Winston
ring, at 701 Fifth Avenue;
Prada
cape, at 575 Broadway.
Photo: Shawn Theodore
For the Cut's fall fashion issue, the Philadelphia-based photographer Shawn Theodore, who describes his work as focusing on "Afro-mythological environments, photographs, and objects," shot a collection of this season's boldest jewels.
"This photo shoot was inspired by a cyanotype image created by John Herschel in the late 1800's of a lady with a harp — a hauntingly beautiful representation of a woman shrouded in silhouette and surrounded by grainy light," said Theodore. "For my subjects, I wanted this same sense of mystery, however, I wanted their natural beauty to emerge from the darkest blues, rather than hidden by it."
The photographs included a luscious strand of David Yurman pearls, a chandelier-like earring from Harry Winston, and — fitting for "the summer of sticking stuff in your hair" — bejeweled Tiffany hair clips. The jewelry was complimented by flowing dresses from Jil Sander, Carolina Herrera, and Theory, and a flowered cape from Prada.
Shine on, you crazy (large) diamonds.
*This article appears in the August 19, 2019, issue of New York Magazine. Subscribe Now!
More From the fall 2019 fashion issue
See All