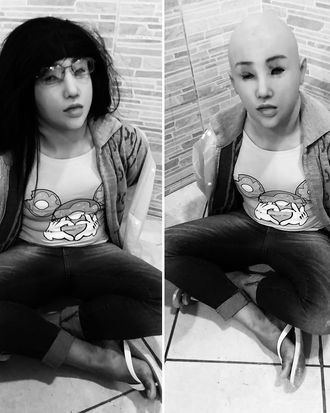 Clauvino da Silva.
Photo: Secretariat of Penitentiary Administration of Rio de Janeiro/AP/Shutterstock
Over the weekend, a 42-year-old convicted Brazilian gang leader known as "Shorty" tried to escape prison by dressing up as his 19-year-old daughter. Shockingly, his attempt was not successful.
According to the New York Times, Clauvino da Silva, who is currently serving a 73-year sentence for drug trafficking, thought he could evade the guards by dressing up as his daughter while she was visiting him. So he put on a truly horrifying camouflage — an ill-fitting silicone mask, glasses, a long black wig, rolled-up jeans, a pink T-shirt, and flip-flops — and started to walk toward an exit. He, uh, didn't get too far. According to AP News, prison guards became suspicious of da Silva when they noticed a man in a teenage girl's outfit acting nervously, leading them to stop him and investigate. Then, per footage released by the state secretary of Prison Administration, da Silva was told to remove his disguise and reveal his identity.
After da Silva was caught, prison officials swiftly transferred him to a maximum-security prison; meanwhile, they started looking into whether his daughter was an accomplice. Aside from the suspicious timing of her visit and his failed escape, AP News reports that Silva intended to leave his daughter behind in his cell during his escape. Regardless of her motive — or lack thereof — it's unclear how da Silva's daughter planned to get out of the prison herself.
We have a related question: What has happened to the art of disguise????