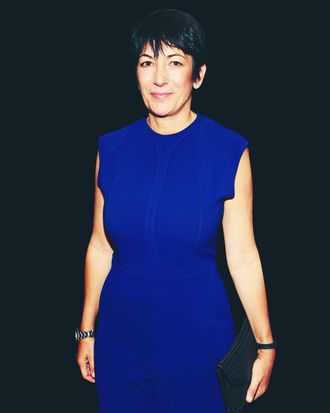 Ghislaine Maxwell in 2016.
Photo: Sylvain Gaboury/Paul Bruinooge/Patrick McMullan
In 2016, it was as if she'd disappeared. "I have not seen her in a zillion years," said one acquaintance recently, the type who would run into her on the New York social circuit's endless round of boutique openings and gala dinners and fashion shows. Speculation veered wildly: The islands? London? Europe?
Now, it seems, Ghislaine Maxwell, Jeffrey Epstein's longtime friend, apparent employee, and alleged co-conspirator, was closer than that. For the past few years, as the Daily Mail first revealed on Wednesday, the 57-year-old has been living in and outside of Boston. Four people who've met with her there said that she's been in a relationship with a Boston-based tech entrepreneur, Scott Borgerson. Borgerson, in interviews this week, said, "I am not dating Ghislaine" and described her as a "former friend"; meanwhile, all four people said they understood the relationship to be, or that it had been described to them as, romantic. (Borgerson did not respond to requests by phone and email for comment.)
Borgerson, 43, shares Maxwell's love of the ocean. He graduated with honors from the Coast Guard Academy and got a Ph.D. in international relations from Tufts' Fletcher School of Law and Diplomacy. In 2009, he co-founded CargoMetrics, a tech company that brings data analytics to bear on global trade by sea, using its findings to inform investments, consult on fleet optimization, and create new products for the industry. He still serves as its CEO.
Maxwell and Borgerson have been acquainted since at least 2013, when he was listed, for one year, as a director of her oceans-conservation nonprofit, the TerraMar Project, on federal tax filings. In June 2014, the two spoke together at "Governing the Ocean Commons: Growing Challenges, New Approaches," an event sponsored by the Council on Foreign Relations, where Borgerson was a visiting fellow.
In 2015, Maxwell was battling Virginia Roberts Giuffre, one of Epstein's accusers, in federal court. The case was finally settled out of court two years later. By then, Maxwell was involved with Borgerson and had moved to Massachusetts. In 2016, she sold her Upper East Side mansion for a little more than $15 million. That year, Tidewood LLC, a limited-liability corporation, bought a parcel of land in Manchester-by-the-Sea, a scenic town about 35 miles outside of Boston, for $2,450,000. Minutes from a Manchester-by-the-Sea zoning-board meeting two years later would identify the homeowner behind Tidewood as Scott Borgerson.
An acquaintance of Borgerson's counseled him through his divorce from the mother of his two children and socialized with him and Maxwell near the beginning of their relationship. "I did know about her background with Jeffrey Epstein," the acquaintance said, "but I didn't understand the extent until it all came to the fore." Maxwell never spoke about it to him.
The acquaintance called Maxwell an "incredibly well-read and educated" woman who could be insightful but also manipulative. As to his friend Borgerson, "he changed pretty dramatically," he said: the way he dressed, the way he spoke. "Despite the qualms, I think the money and the connections she presented to him were too good to resist."
Photographs taken by the Daily Mail show a lavish house, and in 2018, Borgerson applied to the zoning board for permission to add "a natural swimming pool and a new two-story, two-car garage attached addition with a second floor in-law apartment." Locals have spotted Maxwell around the Manchester-by-the-Sea property.
In the years before Epstein's arrest on July 6 and indictment on charges of sex trafficking and conspiracy, Borgerson and Maxwell socialized with Harvard professors around Boston. Meanwhile, the TerraMar Project had changed its contact address on tax filings to that of DGC, an accounting firm in Woburn, Massachusetts. "I'm sorry, but I can't share any client information," an executive there said when asked about TerraMar's abrupt closure on July 12.
TerraMar's activities were, to say the least, unusual, and questions have been raised about its work since it shuttered. Tax records show that Maxwell had been lending money to her own charity, and by 2017, it was carrying $500,812 in liabilities, $549,093 of which was for repayment of a loan to Maxwell herself.
If Maxwell did work full-time for TerraMar, as filings indicate, that was news to those who came into contact with it, such as an executive for a maritime firm who reached out to Maxwell and Brian Yurasits, TerraMar's director of development in 2017, looking for grant funding. The executive scheduled a meeting with Yurasits but Yurasits never showed up, claiming his cell phone died. Yurasits and the executive eventually met in Cambridge. (In emails reviewed by New York, Yurasits wrote that he intended to relocate to Boston in 2018.)
Throughout his correspondence with Yurasits, the executive said, he had the feeling that Yurasits was not in regular contact with Maxwell. Emails could take weeks to be returned. Despite high-profile appearances by Maxwell at the U.N. and on the TED stage, "My impression was that TerraMar as a whole was pretty hollow," the man said. "It seemed like Brian was the entire organization." Yurasits never showed up to a first meeting as scheduled. A second meeting was kept, but didn't lead to funding. The executive later followed up with a more modest request. Despite Yurasits's professing interest in TerraMar's sponsoring the project, the money never materialized: Funding, Yurasits wrote in emails reviewed by New York, was "tied up." Tax filings show that between 2013 and 2017, TerraMar disbursed no grants at all. (Yurasits did not respond to calls or texts seeking comment.)
Neither Maxwell nor her lawyers have made any comment since Epstein's July 6 arrest. So where is she now? Her lawyers did not respond to inquiries as to her current whereabouts, and Borgerson has denied in interviews that she is at his home in Manchester-by-the-Sea and has said he does not know where she is. The New York Post ran a photo last week that purported to be her eating alone at an In-N-Out Burger in Los Angeles, speculation that she was on the west coast; but even that photograph is now a matter of uncertainty. The Daily Mail called the photo's authenticity into question, pointing out discrepancies in the background and wondering about the curiously professional lens the photographer used. Meanwhile, Maxwell's sister, Christine, was spotted by another paper this weekend, picking up bags a few miles from Borgerson's Manchester-by-the-Sea manse. The questions only multiply.
Wherever she is, her name has flooded the news and the courts. On Friday, 2,000 pages of sealed court documents from the 2015 defamation suit against Maxwell were unsealed; they contained allegations that she had been intimately involved in Epstein's predations. On Wednesday, Jennifer Araoz, one of Epstein's alleged victims, filed a civil suit in New York against Maxwell, Epstein's estate, and three unnamed employees of Epstein's.
Maxwell has denied the Epstein accusers' allegations as to her involvement in the trafficking and abuse, and she has never been criminally charged. A spokesman for the Southern District of New York U.S. Attorney's office declined to comment on whether any indictment against her would be forthcoming. "Any co-conspirators should not rest easy," Attorney General William Barr told the press recently. "The victims deserve justice and they will get it."